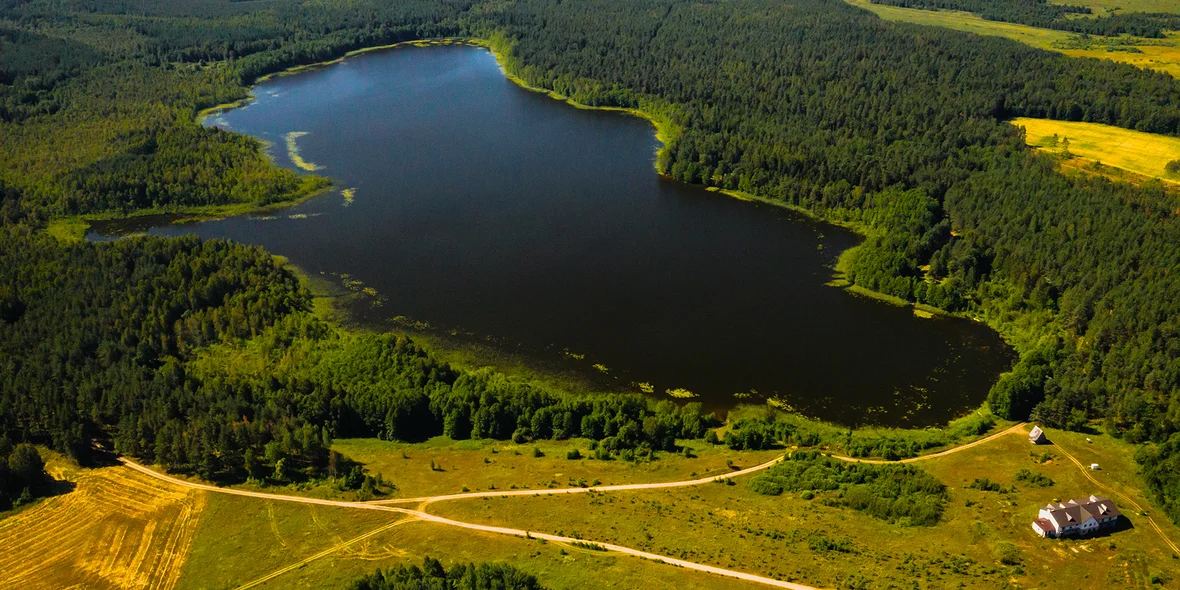 «Invest, do not postpone». The owner of Voloso, a unique tourist complex, on the prospects of ecotourism in Belarus
In the recent decade, more and more tourist facilities have appeared in Belarus. Authentic and ultramodern, secluded and large-scale, for rest and treatment literally any tourist can find a rest to his or her taste. At the same time, one of the most popular destinations in the development of national tourism is the Braslav Land, which is famous for its picturesque nature. It is here that the unique tourist complex Voloso is located, and its owner Alexander told our journalist about the prospects of tourism in Belarus.
«Today, an investor has a chance to acquire stakes in very promising projects»
Belarus is known for its beautiful nature, pristine lakes and dense forests full of mushrooms and berries. It is no wonder that this country has become a favourite holiday destination for foreigners and Belarusians as well. Most often, tourists stay in agro-farms, where their hosts warmly welcome their guests and offer a variety of services, from secluded rest to large-scale noisy celebrations and sporting activities such as rafting, hiking, biking tours.
The most famous destination in Belarus is the Braslav Lakes. This is a unique national park with dozens of lakes, rivers and small streams. In addition, there are beautiful forests, endless fields, and its own safari park. Alexander, the owner of the Voloso tourist complex, believes that this particular land continues to be the most promising place in Belarus, the potential of the area is far from exhausted and the number of tourists will only increase.
— Braslav lakes are, in my opinion, the tourist heart of Belarus, such nature and powerful energy cannot be found anywhere else. Braslav together with the lakes of Lithuania and Latvia has formed a piece of the tourist mosaic of Europe, and at the same time it is truly original. Here the Belarusian kindness and hospitality is closely intertwined with rich history and architectural sights, and the clearest lakes originate from the very real glacier which was on these territories more than 18 thousand years ago.
— Why is it profitable to invest in the Belarusian real estate market now?
— In my view, the answer is obvious: all the most experienced investors invest in a falling market and withdraw their money when prices are at their peak. At the same time, the commercial real estate market in Belarus cannot be called a falling market now, but there are properties that are offered at very attractive prices. There can be several reasons for such a «discount»: the owner moves to another country, he is simply tired of running a business, or various force majeure circumstances make him pull money out of all his projects. In any case, it is a chance for an investor to acquire or buy out a stake in very interesting and promising projects in Belarus at a good price.
My experience shows that there is no lack of demand for agro-farmsteads and complexes at Braslav lakes and they won't lose their popularity in future, because these places are too unique. Any farmstead owner will tell you that tourists come here all the year round — you just have time to book rooms. All in all, construction or purchase of a farmstead, if properly run, pays off within 5-7 years maximum, and those who owned one farmstead, immediately build a second one next to it. People who came into the business by chance, stay here forever. As a consequence we can see whole complexes with saunas on the lake shore — everything for a rest in the lap of nature.
Furthermore, there are still enough foreign investors in certain segments of the commercial real estate market — mainly from Russia and China. They are buying up the most promising projects, knowing full well that in time they will double or even triple their investment. Therefore, in my view, the commercial property market, specifically agritourism and ecotourism, is now very interesting from an investment point of view.
— In a month's time, new regulations on agro-ecotourism business will come into force. They concern the limitation of the number of rooms and the compulsory permission to run such a business. How will this affect the development of the farmstead business in Belarus?
— In my opinion, the adoption of such regulations should have been expected a long time ago, because until now, agro-ecotourism in Belarus has been practically unregulated, and the owners of homesteads have essentially been allowed to float freely. The introduction of such norms is an attempt to put the industry in order, to distinguish smaller farmsteads from large-scale tourist complexes.
I am sure that with proper registration and proper running of the business, it will not affect anything. Moreover, in my opinion, big businessmen who own more than one homestead will not only not suffer, but it is quite possible that they will even benefit from the adoption of such a law. All the small and «occasional» properties would leave the market, leaving the right to fight for the client to those players who have made this business their life's work.
On the other hand, instead of large estates with more than 10 rooms small hotels and tourist complexes will start to appear. This means that the level of service will be higher, which will qualitatively improve the service. Eventually, I think, we will come to the point where homesteads will be a stronghold of «holidays in the countryside» for families or small groups of friends and large tourist complexes will be able to reach a new level by providing services of mini-hotels and health resorts. At the same time, I see prospects for development and profit in both the former and the latter.
«The project is primarily looking for a co-investor»
— Can you tell us more about your project? How is the Voloso Tourist Complex different from all the others?
— "Voloso is now a one-of-a-kind tourist complex that can be transformed and adapted to several scenarios. This complex could be owned by a large company that holds retreats for its employees or organises fashionable retreats away from the hustle and bustle of the city. Another option is a small hotel, which will host guests all year round, offering a wide range of services, from steam bathing in a European bathhouse to relaxation in a modern spa centre and even medical treatments. Finally, the Voloso tourist complex is a great option for those business people who want an occasional break away from prying eyes. For the development of each of these areas, a solid foundation has already been laid: 5 two-storey cottages (each 180 sqm), a sauna complex with 160 sqm and a restaurant with 300 sqm. All this is located on an unbelievably beautiful plot of land.
It is a tourist complex which will offer the level of European service which is so lacking here. In addition, the groundwork has already been laid for a wide range of medical services, which are deservedly popular among foreigners.
This range of services will free Voloso from the seasonality to which most estates in these parts are now susceptible. Of course, on weekends and holidays, booking homesteads, and hotels in Braslav is a real challenge, but on weekdays, many rooms are idle. In this sense, Voloso will be a unique project: European service, modern spa complex and medical care of the highest class will attract guests all year round.
Another advantage of this project is its favourable location. «Voloso is built on the shore of the lake of the same name, which is rightly considered the jewel of the National Park. The water surface area is 4.21 sq km, and the maximum depth is 29.3 metres. The waters are clear and pure all year round, and that is because the lake has been home to relict crustaceans since the melting ice ages, which literally «cleanse» the body of water. There are also a number of rare fish species, including eels and whitefish.
It is planned that the complex will be included in a popular tourist area with great potential within the borders of the three countries — Lithuania, Latvia and Belarus. The development of tourism infrastructure in Belarus contributes to growing tourist interest in the Braslav region, primarily due to health resorts, a range of new agritourism farms for private recreation and the famous Viva Braslav music festival. In all these parameters the tourist complex Voloso will simply have no competitors.
Separately, we would like to emphasise that first and foremost, this project is looking for co-investors. Around $2,000,000 has already been invested in the construction of the complex, but in order to finish it the same amount of money is still needed. The structures of the tourist complex are currently at varying stages of completion: the restaurant is 25% ready, the bathhouse is 50% ready and the cottages are 70% ready. A mud cure clinic is also being planned and visualisations of the exterior and interior design have been made. In my opinion, the most difficult stage of construction is behind us, and now all that remains is to complete what has been started.
«The complex will pay off within five years»
— Tell us more about the return on the project: in how many years will the complex fully pay off?
— The Voloso tourist complex, located just ten metres from the lake, is planned to pay off within the first 5-7 years. Here we are talking about a measured tourist business as a small hotel or guest complex. However, if the room stock is increased and popular medical services are added, the project can pay off as early as in 3 years. After all, it is no secret that many foreign tourists purposely come to Belarus for medical services of the highest class. Our specialists are rightly considered among the best in Europe, and low prices attract visitors from near and far abroad. Russians are the most frequent visitors to Braslavy: absence of the language barrier and low prices play an important role.
But it is not only foreigners who will come to the complex. The COVID pandemic has changed the local population's attitude to domestic tourism: Belarusians have become more willing to travel around the country, preferring national holidays to European ones. And here Voloso will be an excellent alternative, offering the widest range of offers and the highest level of service.
The main advantage of this project is that it will suit literally any business idea — its potential is enormous. Firstly, the site on which Voloso is built has a beautiful landscape — there are fields, a lake and a forest all around. Secondly, around the territory of the complex there are the lands of a friendly farmstead with an area of 50 hectares. The owners of the farm support the prospect of developing the area as a tourist destination and are ready to join the project. Thirdly, the architecture of the project itself allows practically any business model.
In summary, the Voloso complex would be perfect for investing in the development of tourism business in this popular region, and now it is a truly unique offer.