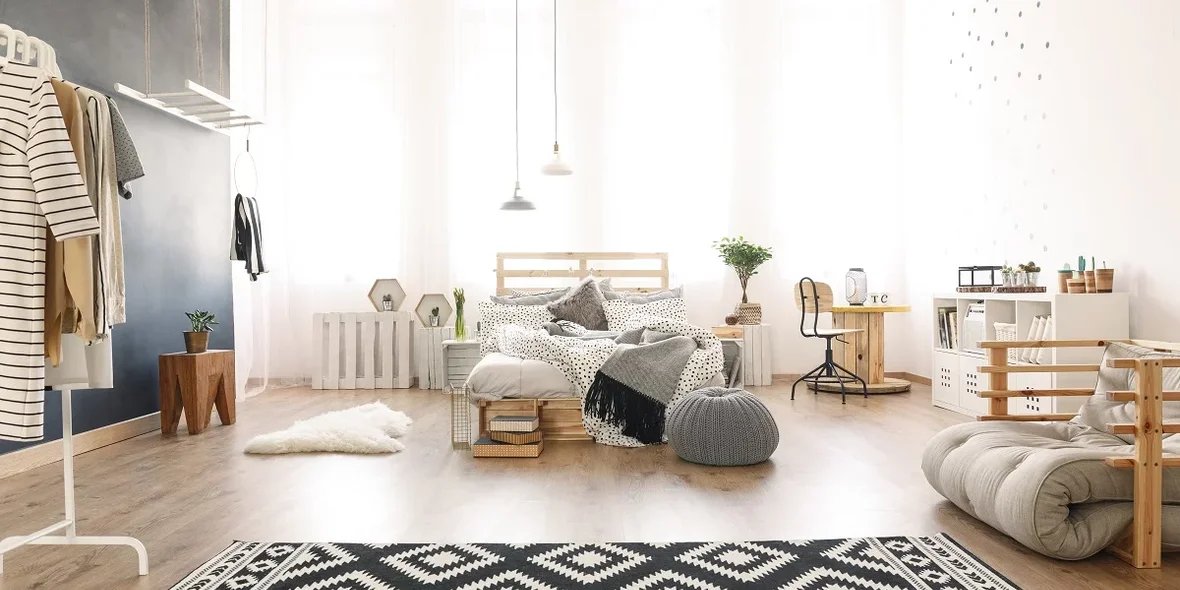 What does the term «studio apartment» mean?
---
The real estate market offers a huge selection of housing that suits every taste. Today you can find many interesting options, including in your own budget segment. One of the most popular solutions when the question of the ratio of price, footage and comfort is especially accentuated are studio apartments. This relatively new housing format for the CIS countries has been in great demand in the West for over 50 years.
Our article will teach you all about the advantages and special features of studios as housing and investment.
What is a studio apartment?
Studios trace their history more than half a century back, it all began in the USA. This format of housing is expected to gain the greatest popularity among young people, childless people and creative people who need solitude, but, on the other hand, do not need a lot of space.
A studio is a one-room living space without partitions and walls that would separate the areas for resting, sleeping and the kitchen. Only a bathroom with a shower is allocated separately, but there are options for such apartments where the shower and toilet are not in a separate room, but behind a loose partition.
How do studio owners differentiate spaces, you ask? There are several solutions: from contrasting wallpaper and staining to floor level drops and a special arrangement of furniture.
How does a studio differ from a Soviet «odnushka»? Classification of space arrangements
In the studio, in contrast to one-room housing, there is no division of the area into residential and non-residential. Whereas a one-room apartment has a division into an entrance hall, a living room, a kitchen and a bathroom, only a bathroom is allocated in the studio, and that is not always the case. The living space begins right behind the door of a studio. This is ideal for one or two people.
Legal points
Formal ownership of a studio is different from similar ownership of standard housing. In an ordinary apartment, everyone who lives in it can be registered as an owner in equal shares and with the same ownership rights, but only one person can own a studio.
However, the demand for studios isn't reduced by either of these two differences. The reasons are simple: such apartments are cheaper, plus they have more room for self-expression when decorating the interior.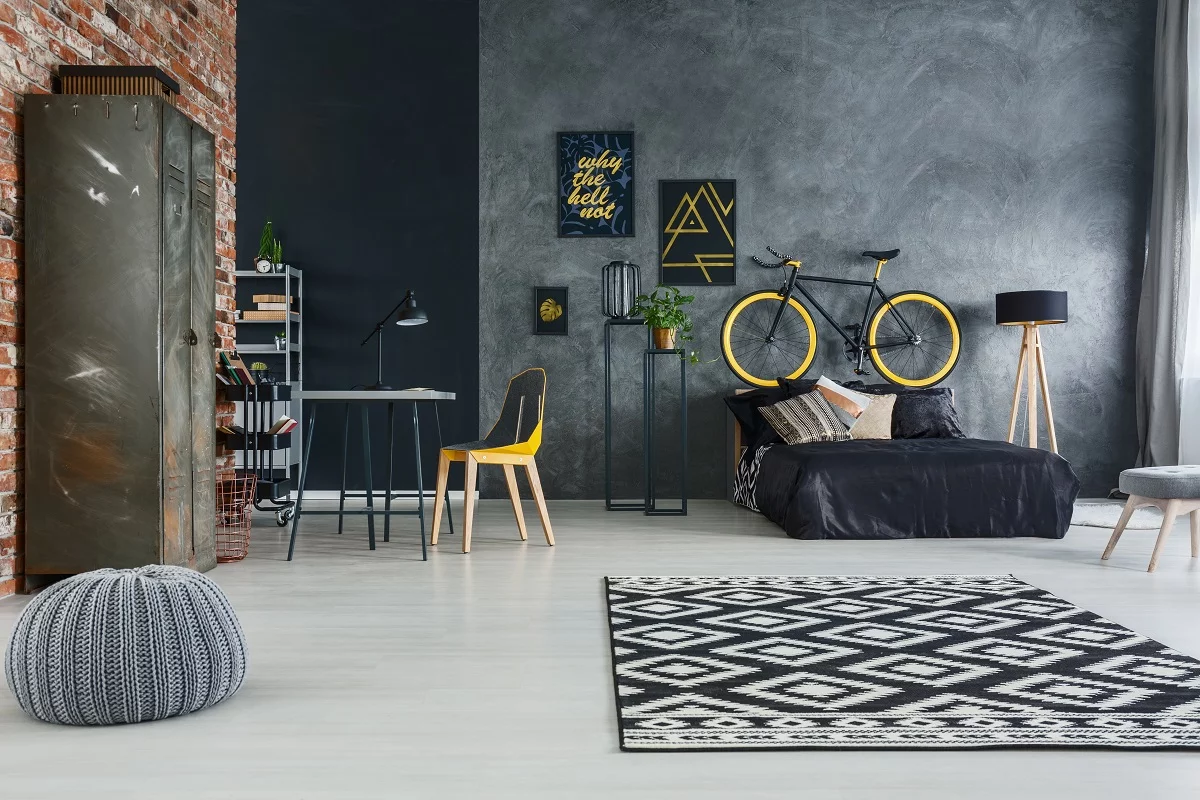 Advantages and disadvantages of studios
It all depends on what features of this housing format to pay attention to and what is a higher priority for you. For example, a family with children or a person with a large pet will most likely feel cramped in a studio. Although in many new buildings you can find spacious studios with large floor-to-ceiling windows.
So what are the advantages of this type of property?
An abundance of free space: no corners, doors and walls, a lot of usable space.
Freedom in planning decisions: more opportunities to experiment with the interior.
Affordable pricing compared to other types of apartments.
Good acoustics.
Studio apartments are a great option for creative people with a fast pace of life.
Disadvantages of studios:
The absence of walls and doors makes it impossible to be alone in such an apartment. This can become a problem if more than one person lives in the studio: the TV can be heard from anywhere in the apartment, the lights are on throughout the apartment, etc.
Smells from the kitchen area can cause discomfort for the same reason: the presence of a cabinet in the path of the smell of roasting food will not stop it from spreading. But, in all fairness, installing a hood solves this problem.
Studios are not very suitable for large families and people with children also because the number of sleeping places that can be accommodated in the studio is still limited.
Why turning a regular apartment into a studio is a bad idea
A one-room apartment can be turned into a studio by simply removing walls and partitions. Despite the attractiveness of this idea, you need to remember about the bureaucratic delays that await you when writing up a redevelopment agreement.
It is also important to remember that not all redevelopments will be approved, even if they nominally don't violate anything. Problems can arise due to load-bearing walls, rearrangement of bathrooms, kitchen sinks, washing machines. Therefore, it is often easier to just buy a new studio, especially since, as a rule, they cost 30 percent less than standard apartments.
Construction experts point out that making standard housing out of a studio is many times easier than vice versa. It is enough just to arrange the interior partitions and install some doors. An important point and advantage of such a redevelopment is that you do not need to run around the authorities: you do not need special permits to convert a studio into an ordinary apartment.
But to make a studio out of an «odnushka», you have to sweat it: you need to get permission from the local government (state housing inspection, city administration or architecture departments). Before that, you must have a draft of changes ready, with which you need to submit a declaration on the start of construction work and also obtain permission for them. Then, after the redevelopment has been completed, the acceptance stage follows.
But there is even more to this:
All these approvals can take a lot of time: 1-2.5 months to obtain a permit, about another month to accept the changes made and yet one more month to make changes to documents in the registry.
For unauthorized redevelopment, you will have to pay a fine and, with a high degree of probability, return everything as it was (if you affected the supporting structures with your modifications).
Even with all the permits on hand, you will have to spend a lot of time, effort and money to bring the project to life: transferring communications, laying electrical wiring, heating systems, subsequent repair and restoration of surfaces.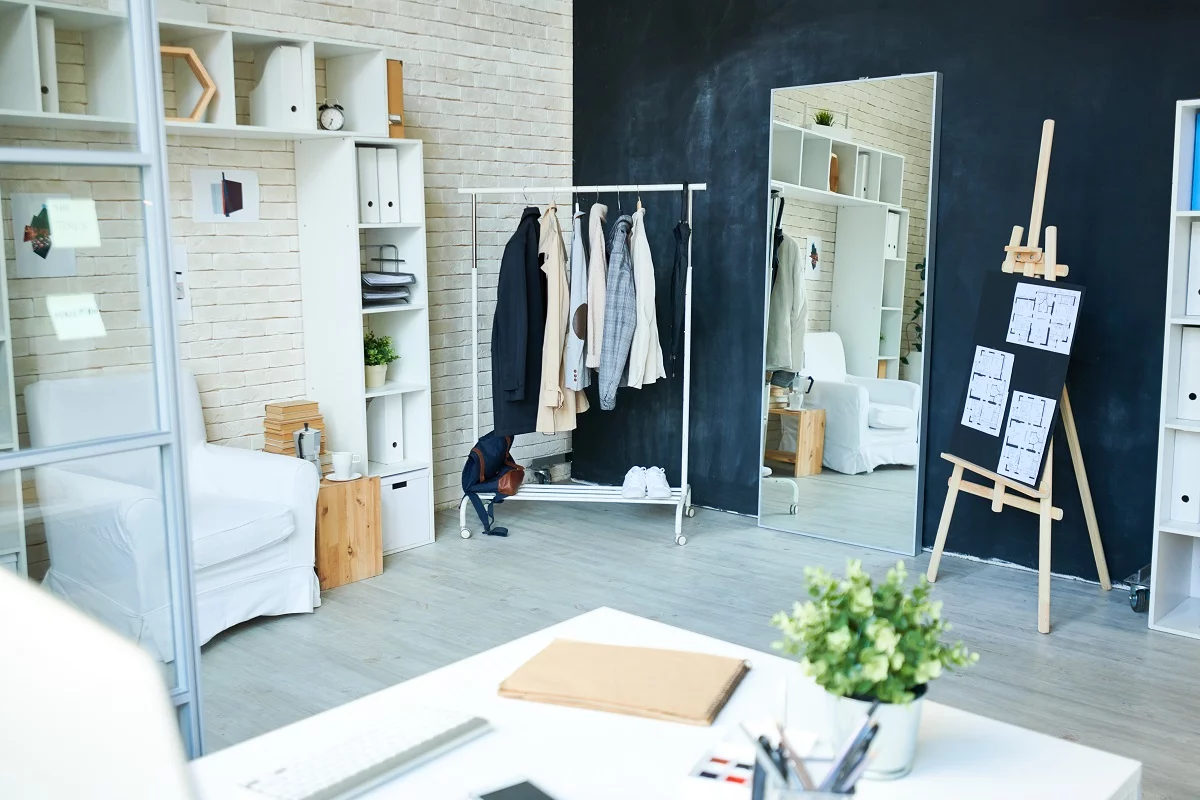 Who may live comfortably in a studio, and who cannot
When considering the purchase of a studio as a solution to the housing issue, take into account the composition of your family and possible changes in it in the near future.
Who will feel comfortable in an apartment of this format:
Single people. There are solid advantages here: a lot of space is not required, there is more than enough personal space in the studio.
Childless couples. It is also possible for two people to comfortably accommodate even in a small studio, especially if they don't have enough money to buy one or two-room housing.
Students. The studio is a practical and forward-looking alternative to living in a hostel or in a rented apartment.
Creative people. The free layout gives you the opportunity to fully demonstrate your design skills, plus good acoustics will appeal to people associated with music or theatrical arts. Also, the free space allows you to equip a workshop area in the room.
For whom a studio will absolutely not be suitable for permanent residence:
Families with children. Of course, you can make a separate area for children to play and sleep, but all the same, it will be more comfortable for them and their parents to live in separate full-fledged rooms.
Large families. If the situation requires it and the area allows, the studio can accommodate three or five people, but you will have to forget about comfort and, moreover, personal space.
Claustrophobic people. Small-sized studios are not suitable for those who cannot stand cramped premises, but there are options for such housing with a footage of 50 or even 100 m².
Is the studio suitable for real estate investment?
In this matter, it depends on each individual case: you need to consider each instance separately. The payback period and profitability of real estate, including studios, are influenced by many factors that are only indirectly related to the format of housing. For example:
the state of affairs in the real estate market in the country as a whole and in a particular region;
the location of the premises (how far they are from the city center, metro stations, industrial zones, tourist sites);
the «age» and class of the building in which the apartment is located;
infrastructure of the district and adjacent microdistricts.
Generally speaking, investing in a studio is more profitable than investing in one- and two-room housing. This tendency is due to the fact that the price for studios is lower than for ordinary apartments, and therefore they pay off faster.
At the same time, the cost of renting a studio and one-room housing is almost the same, but much depends on the property, region and area of the settlement. For example, if there are a lot of business travelers or tourists in the city, the demand will be good, but if the main audience of rented housing in the village is families with children and families of 3 or more people, the payback period for an investment in a studio can be extended.
What should the investor do in the end? Before deciding whether to invest in a studio or not, you need to carefully study the market situation. This housing format can be both a profitable investment and an investment failure. Be smart and your investment will pay off.