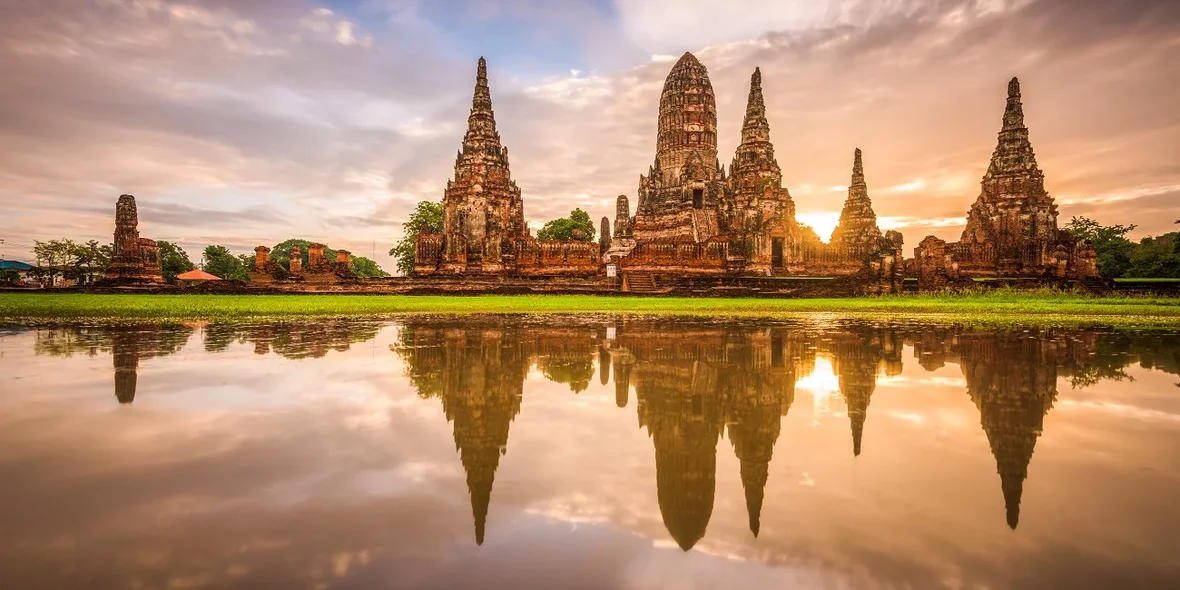 The selection of the best offers from REALTING partners in Thailand
Thailand is an amazing country that makes you fall in love with it at first sight. Incredibly clean beaches, warm waters of the Indian and Pacific Oceans, unique fauna, ancient Buddhist temples — these are just a few examples from the long list of Thai tourist attractions.
Many tourists come to Thailand during summer and winter — the country's climate allows you to relax here all year round. The most popular season is winter. Programmers, freelancers, and other professionals who can work remotely prefer to come in October and stay here till March. Despite the myth that Thailand has a wet season in summer, many tourists point out that within 2-3 weeks of their vacation in July, they have never seen rain in these areas.
Such comfortable weather conditions in Thailand attract not only tourists but also investors. Buying real estate in the country is beneficial for those who want to live here and those who want to receive a stable passive income. One cannot say that housing in Thailand is expensive. For example, apartments in Pattaya can be purchased for $ 40,000. In Phuket, the same apartments cost twice as much — $80,000.
In October 2020, only one real estate agency from Thailand — THAI Residential — could be found on the REALTING platform. One month later, the number of companies tripled — we started working closely with the real estate agency In Dreams and the developer Serene Condominium.
Our partners offer their customers properties with excellent value for money. The deals that companies make with their clients are personalized and completely transparent.
We bring to your attention the following properties offered by our partners:
Apartments from the developer Serene Comdominium
Serene Comdominium announced the start of apartments sales in a new residential complex on the island of Phuket. The developer guarantees a full return on investment.
The main concept of the project is taking care of the environment. As claimed by the company: «Instead of one tree, felled during the clearing of the site, we will plant two new ones.»
There are 201 apartments in the residential complex. The layout is variable: the area of the apartments ranges from 27 to 135 m². The developer offers its own design project for those who are looking for 'turnkey housing'.
Project infrastructure: 3 swimming pools, gym, restaurant, and bar with sea view, sauna, SPA with mountain view, 24/7 reception, security, underground parking, Shuttle bus. Distance to the sea — 800 meters, to the airport — 15 km.
Residential real estate from real estate companies THAI Residential and In Dreams
One bedroom apartment on the island of Phuket
In Dreams describes this apartment as: «With its captivating and timeless design, lush gardens, sparkling exotic flowers, first-class service, convenient location and privacy, this apartment is sure to enchant everyone who is looking for a unique holiday in Thailand.»
Price — 83,621 € (link to the object).
One-room apartment in Phuket
THAI Residential is selling an apartment in a quiet location, surrounded by a rainforest. The windows overlook magnificent mountains. There are all the necessary amenities not far from the apartment: pharmacies, markets, and bus stops, from where the transport runs regularly towards the beach. The agency also guarantees the possibility of receiving passive income.
Price — 98,708 € (link to the object).
Townhouse from In Dreams in Phuket
Cozy townhouse near Kamala beach. Three-storey building in a protected area. The house has a spacious living room, a fully equipped kitchen area, a children's room, a bedroom with its own bathroom and a bedroom with access to the terrace. On-site facilities include a swimming pool, a gym, a children's room, and a basketball court.
Price — 131,007 € (link to the object).
Two-storey house in Phuket
For particularly demanding buyers, In Dreams offers a quiet and secluded 4-bedroom villa with a private pool, located in the fabulous Phuket Lagoon. Secured closed type complex just 20 minutes South from the International Airport and 5 minutes from trendy Boat Avenue and new Porto de Phuket.
Price — 585,349 € (link to the object).
THAI Residential commercial property Custom-designed
The Serenity Golf Hotel is a lake-side paradise in the Kathu district. Surrounded by lush green forest and mountains, it is located a short drive from the vibrant and active life of Phuket.
The hotel has 14 rooms: 4 bungalows, 2 rooms, 4 standard rooms, and 4 family rooms. In addition, the total price includes a vacant plot of land with an area of 474 m².
There is a swimming pool and a garden on site. Near the hotel, there is a Golf club with courses meeting international standards. Phuket International Airport and the well known Patong beach are a 15-minute drive away.
The hotel price is 1,529,281 € (link to The Serenity Golf Hotel).
Photo: Envato