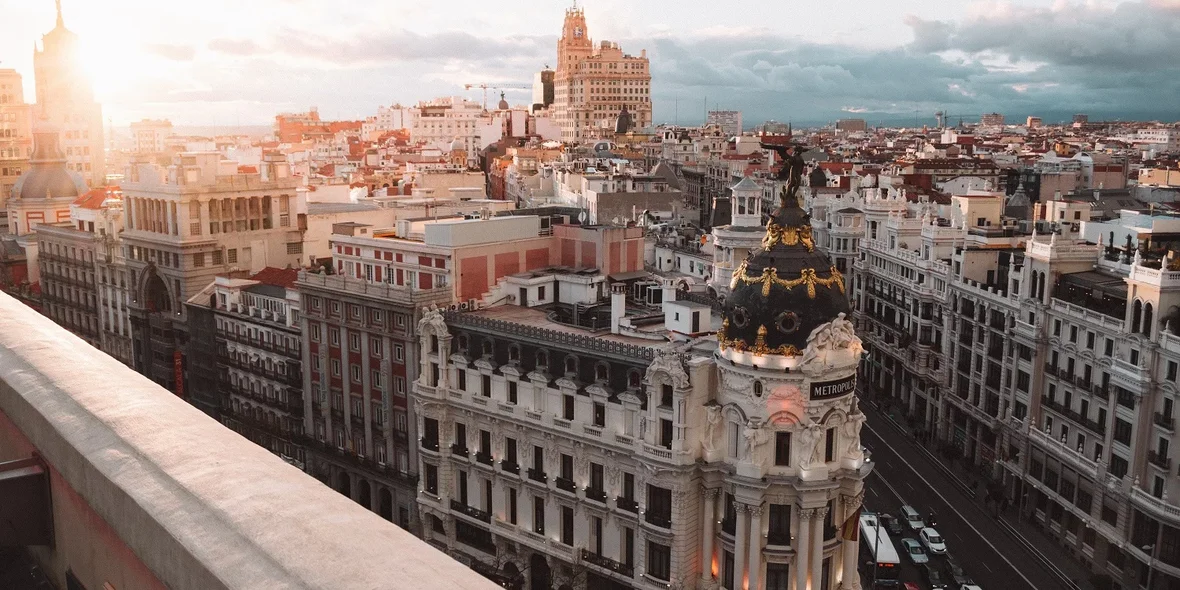 «I can earn € 7,000,000 on one deal, but I have to sell a 700-million hotel chain to get it.». The success story of a Belarusian realtor in Spain
Someone else's success story is always a motivation for action, a reason to reconsider your values and priorities. Today, Belarusian citizen Oleg Chubin, one of the top realtors in the Spanish market, has become our motivator. How does he manage to sell properties worth tens of millions of euros? Why did he choose to live in Spain? And finally, what do you need to do in order to earn your first million euros? The answers to these and other questions are in this interview.
---
Oleg Chubin is a businessman, an entrepreneur, and a member of the Spanish and American associations of realtors. He was born in Belarus. His father is a military officer, while his mother was the head of the city children's library and the Adam Mitckiewicz Museum in Novogrudok, Grodno region. Oleg studied at the Voronezh Pedagogical Institute, at the Faculty of Foreign Languages, served in the border troops, and participated in the war in Afghanistan. After he graduated from the Almaty Institute of Foreign Languages, later he defended his Ph.D. thesis in economics in Moscow.
For almost 30 years he has been living in Spain, in the city of Alicante. In 1996 he opened his first real estate company there, and he has has specialized in commercial real estate since 2006.
---
«The advantage of Spain is that the locals have a very good attitude towards the Russian-speaking population»
— Having lived in Spain for so many years, you will definitely be able to name the five most positive and five negative facts about this country.
— The main advantage of Spain is its wonderful climate. I am now standing on the shores of the Mediterranean Sea, and I can say for sure that the most powerful argument in favor of this country is having 300 days of sunshine a year. Another positive point is quality food and fresh fruits and vegetables all year round.
Thirdly, a very global and good thing, Spain has an excellent investment climate. Not only any European, but also people from the countries of the former Soviet Union can easily buy real estate here. For example, in order to buy an apartment in Spain, you need to have 30-40% of the transaction amount and your passport. All other documents can be drawn up during the process. And loans for real estate are provided here on very favorable terms — the rate is only 3% per annum.
«The advantage of Spain is that the locals have a very good attitude towards the Russian-speaking population.» I have traveled all over the world, and I can say with confidence that the Spaniards have as possible an attitude to Russian-speaking people as possible.
Another positive point, though less global: direct flights from Spain fly to most countries of the world: to Russia, Belarus, Ukraine, Italy, Lithuania, Germany, etc. When I go to visit my parents in Belarus, the road takes only about 5-6 hours (the flight is about 3 hours).
As for the negative aspects, it is not that easy to find a job in Spain. It is good to live here if you move in with a starting capital and the opportunity to work remotely. If this is not the case, then sometimes you will have to dedicate several years to learn the language and find a more or less decently paid job.
The second negative point, related to the first, is that it is not easy to obtain a residence permit in Spain. If you are an investor, then you can get a residence permit in a month, but if you just arrived and decided to start everything from scratch, then obtaining a residence permit with the right to work will take up to 3 years.
These are really all negative aspects of moving to Spain, I don't remember any more specific ones.
«In those years, people came and bought apartments by the floors»
— How did you start your career as a realtor?
— In 1992, I was engaged in the supply of products from Europe, in particular from France. That is why that year I went on vacation to France. We just stopped in Spain on the way, but, having appreciated the huge prospects of this country, we stayed here. An acquaintance recommended me to a Spanish construction company, which was then one of the largest real estate developers in the country. We agreed that I would advertise and sell real estate to the Russian-speaking population, even though I did not have any real estate experience then.
In those years, there was no Russian-speaking population in Spain at all, not even tourists. What can we say about Russian clients buying real estate? However, we studied all the advantages of the market, identified the main areas of business and launched appropriate advertising aimed at residents of the former Soviet Union. Our work quickly bore fruit, and just six months later, I and a couple of realtors organized a real boom in the Spanish real estate market. It was from that time that all Russian-speaking investors began to buy real estate here.
Just imagine, 30 years ago in Spain you could take out a loan to buy a home at 7-8% per annum. A three-room apartment on the seashore then cost $ 100,000. The buyer needed to have only 30% of the cost of the apartment — the rest was credited by the bank. It was a real fairy tale, people came and bought apartments by the floors, 10 apartments at a time. These «golden days» lasted until about 2000, and the really smart realtors made their fortune back then.

«There is nothing easier than buying or selling an apartment in Spain»
— How did you get into commercial real estate? How does working in the commercial real estate market differ from working in the residential market?
— Like all realtors, I grew with my clients. First we bought apartments, then villas, then we started building residential complexes. And at some point, my clients asked me the question: «Why don't we buy a hotel?» Since then, I began to look closely at the commercial real estate market, and realized that there is a special, «white» caste of realtors working there. These are the highest top specialists who work at a completely different level. Yes, salaries are much higher there, but the sector also requires a completely different, superior level of knowledge. In my opinion, there is nothing easier than buying or selling an apartment in Spain, because there are public notaries who fully check the purity of the transaction. Another thing is to sell a hotel, factory or plant.
There is a key difference between commercial and residential real estate. Buying an apartment in Spain is most often a client's whim, theu just want to the seaside in the summer and that's it. The criteria for choosing a property in this case are simple: a building that is close to the sea, as few utility bills as possibles, more advantages like a pool on the territory and a large supermarket nearby. If a client buys commercial real estate, then the main criterion for choosing a property is its profitability. I have clients who have never come to see their hotels or shopping centers. During the purchase, they are only interested in 3 questions: how much it costs, whether the price corresponds to the market, and how much the property will bring in profit, and its payback period. And my task as a realtor is to know the answers to all these questions.
For example, before offering my client a hotel for 10 million euros, I need to see for myself if this property is worth the money. To do this, I evaluate its location, category and number of rooms. Then I need to study the audit of the hotel and see how profitable the property is: assess its costs, income, staff size. The third, no less important, step is to obtain financing for the purchase, that is, to find out if it is possible to get a loan for this transaction. It is important to understand that the hotel will bring in approximately 6-8% per annum, while a bank mortgage loan now costs around 1.5-2% per annum. This difference of 4–6% per annum is the investor's profit from the purchase, so there is no point in purchasing a hotel for your own money.
And now the most important thing is that I need to get income from the purchased hotel. This means that I need to rent it out to a hotel chain. As a result, my client will simply receive monthly income to their account, without delving into the process of searching and buying a property. My client's only task is to transfer money to Spain, but here, too, I will help by explaining where the money can be transferred from, where it is not allowed, and how all the paperwork needs to be processed.
Another important nuance is that you need to clearly understand where it is better for the client to register as a tax resident. For example, if you are a tax resident in Russia, you will need to pay 13% of your income; if in Dubai, then it's 0%. And then you need to know how to minimize taxes in Spain. And for this you need to initially bring in the money correctly, buy real estate as needed and arrange everything competently.
This is the minimum knowledge required to work in the commercial real estate market.
«The client does not buy a plant or a hotel — they want to return their investment as soon as possible»
— When you work in the commercial real estate market, you cannot offer your client to invest in one or another branch of the economy at random. For example, if we talk about Spain, then buying hotels can be profitable here, because this country occupies a leading place in Europe in terms of the number of tourists. Also, Spain is one of the top three in Europe for the production of wine and olive oil, which means we are considering the purchase of the corresponding factories and plants. It is also worth mentioning that Spain is one of the largest consumers of bottled fresh water, which means that plants for bottling fresh water will be profitable. Also, this country actively produces footwear and agricultural products (tomatoes, lemons and oranges). These are the industries that are interesting to me and my clients, and I know everything about each of them.
But there is more to it. To be a truly highly paid realtor, you need to provide your client with a comparative analysis of the profitability of a particular industry in different countries. For example, there is a client who wants to buy vineyards in order to produce cheap wine. It is important for him to understand why vineyards in Spain will be more profitable than vineyards in France or Germany.
If a client wants to buy a hotel, I have to provide him with a comparative analysis of the cost of hotels by room in the entire region. For example, in Madrid and Barcelona, a good price for a hotel room is 150-200,000 euros, and it turns out that a hotel with 100 rooms will cost a client at least 20,000,000 euros. This is a long-term investment that will take many years to pay off. A 1 or 2-star hotel somewhere on the second line of the beach will cost, for example, 8,000,000 euros, but having a 15% profitability, it will pay off in 5-6 years. So just calculate the difference.
In general, a good realtor is more of an economist and tax advisor than a salesperson. By contacting me, clients buy not only a factory plant or a hotel — they buy profitability, and they want to return their investment as soon as possible. This is the key point that differentiates a competent realtor from a regular real estate seller.
— What are the most unusual commercial properties you have ever sold? And how much can you earn on such facilities?
— In total, over the years, I have completed more than 1000 transactions, and it is rather difficult to single out any one of them. But there are, of course, unusual properties. For example, now I will go to see a wind tunnel that is for sale at a price of 12 million euros. This client now wants to sell it, but I am more interested in the question of how he managed to buy it. It would have be better to buy a hotel or a factory for these 12 million euros, but initially it seemed to him that the wind tunnel would bring in more money. He was promised the same 6-8% per annum, but he did not take into account that this is a business with increased risks. For example, if during the operation of the wind tunnel the electricity suddenly turns off or the human factor is triggered, then the person inside the pipe, having fallen from a height of 15 meters, will, at the very least, get severely hurt. And then the wind tunnel will simply be closed, and it turns out that these 12 million euros went to waste.
Another interesting property is that I am selling is a train in Austria that once belonged to the emperor. This train was used by all the nobility many years ago, and now it is for sale, more like a tourist attraction.
But, of course, there are not so many such properties. Most often I sell hotels, factories and plants. For example, now there is a very beautiful hotel on the coast for 6.5 million euros, and, believe me, it is worth the money.
As for the realtor's earnings, it all depends on what you sell. I currently have properties worth between 1.5 million euros and 700 million euros in my portfolio. If I sell a hotel chain for 700 million euros, then I will earn 7 million euros in one transaction. But imagine, I need to find a buyer who has the funds. Sometimes, whole countries ask for loans in this volume, but here we need one buyer. It is quite possible to find such a buyer, having the relevant experience and the necessary knowledge.
— What do you think is the most important for a professional realtor?
— The main thing to do in our profession is to fully meet the expectations of the client's requests. Do your job so that the client, the investor comes back to you again and again. At the same time, never forget to build good relationships with your partners and agents.
And before ending the interview. The dream of every realtor is to discover a new country, a new investment market. This is what brings you the maximum income, and for this you need to constantly be aware of world economic trends and travel as much as possible. That is why I now spend most of my time in South America and Southeast Asia.
References to objects on the platform: