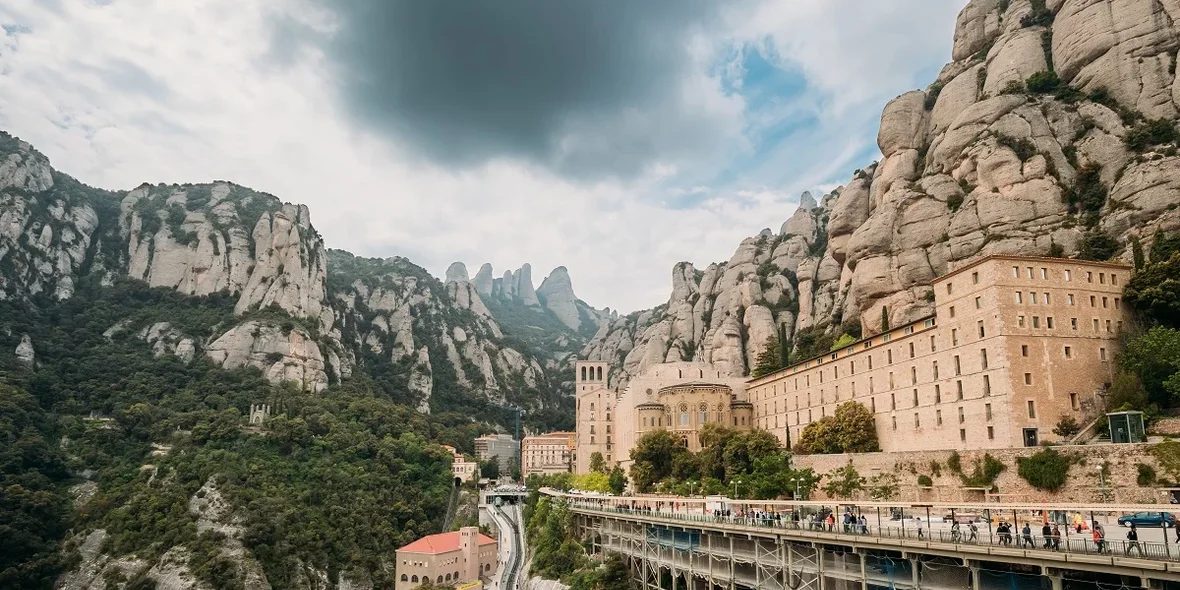 Barcelona's best neighbourhoods for property purchase
The capital of Catalonia, Barcelona is one of the most touristic cities in Spain. Every district of it has its unique charm, and millions of people come here with the interest of leasing or buying a real estate.
Neighbourhoods
There are 10 neighbourhoods in the city, the borders of which were set in 1984:
Ciutat Vella;
Eixample;
Gracia;
Les Corts;
Sant Andreu;
Sarria-Sant Gervasi;
Nou Barris;
Sants-Montjuic;
Horta-Guinardo;
Sant Marti.
Due to vast neighbourhoods' territories, they are divided into micro districts, «barrios». Some of them are notable for unique residential buildings, specific groups of inhabitants, etc. Some of them are only good for vivid nightlife, others — for permanent residence.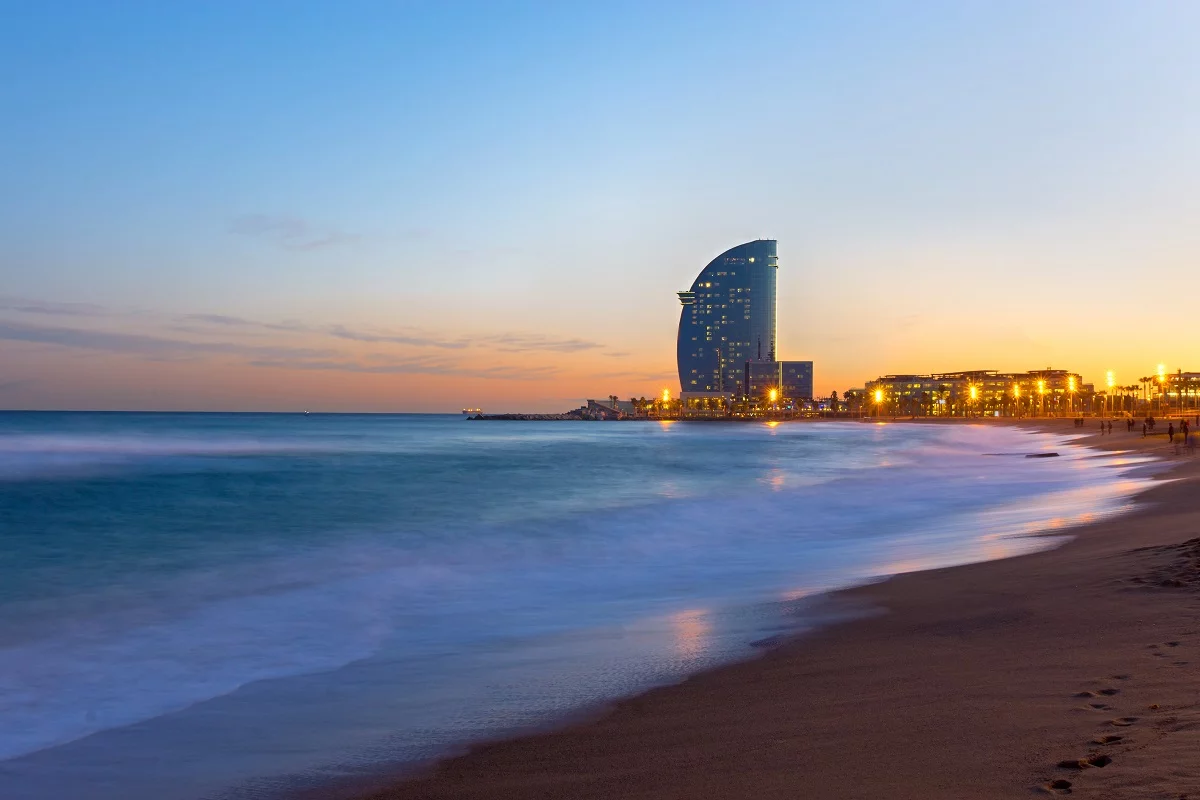 Ciutat Vella
This district is usually called the Old City. It's the most visited area and a must-see for all the tourists. The main worldwide known historical attractions are located here. The neighbourhood consists of four barrios: The Gothic Quarter, Barceloneta, Raval, and Born.
Despite an abundance of splendid architecture, it is not the best place to live in because of all the visitors and noise. A lot of the apartments are for rent. Most of them are small-sized rooms with an old interior that are not suitable for a permanent living but are in demand among tourists. It's very convenient to stay here for 7-10 days if you have a rich itinerary. The Old City accommodation will save you money on public transportation, considering it's not that cheap here.
A square meter price in Ciutat Vella starts from €3500 in an old non-renovated building. The price in a new apartment will cost much more. It's profitable to buy a property to rent it to tourists who plan not only to stay on the beach but also take some excursions.
Barceloneta barrio
Barceloneta is a microneighbourhood on the Mediterranean coast. It has the city's main beach. From of old, seamen and fishermen were settling down here. The neighbourhood is remarkable for little narrow streets, old houses with small apartments. It's a great place to stay for a few months. One can find prime real estate in Barceloneta but with a high price. A house price starts from €700 thousand, one-bedroom apartments cost €180 thousand or more, a square meter is for €5200.
Raval barrio
This barrio is a multicultural one. Immigrants, students, young people who are not very picky with living conditions prefer this part of the city. Some share apartment rent and live as roommates. In terms of safety and convenience, Raval is not the best neighbourhood for a long stay, especially with small children. Plenty of bars, national stores, La Boqueria market impacts the type of residents living here. But of course, there are advantages of this barrio too. An authentic atmosphere, picturesque streets, antiquarian stores create a special charm of the district. There are always people willing to rent an apartment here and stay in the historical city centre. A square meter costs about €4700, and a one-bedroom apartment price will start at €150 thousand.
The Gothic Quarter
Most of the neighbourhood buildings were constructed back in the 12-16 centuries. Besides, there are new properties with light and cosy apartments here. The highlights of the barrio are the Middle Ages atmosphere, walking distance to the sea that is, at the same time, the biggest con of the place: thousands of tourists pack the streets even at night. The Gothic Quarter is perfect for short-term rent. One-bedroom apartments cost from €300 thousand, while a square meter is sold for €5900.
Born barrio
Compared to nearby microneighbourhoods, Born is less populated and clean. The life in the barrio is rather comfortable, all the historical attractions could be reached within a few minutes. There are lots of cafes, bars, restaurants here to spend some time with friends or family. For a long stay, this barrio isn't quite suitable, especially if having little kids. One-bedroom apartment price starts with €400 thousand, and a square meter is from €4000.
Eixample neighbourhood
One of the best districts to live in is Eixample. There is everything here: medical facilities, schools, kindergartens, supermarkets, parks, sports centres, and farmer markets. Architectural beauty combines with cosy streets and squares. One of the most important attractions, the Sagrada Familia basilica is situated here.
This area can be divided into two parts. The right one is viewed as a luxury and expensive, while the left part is more vivid (the University of Barcelona is located here) and the same comfortable.
Apartments in Eixample cost a great amount of money. A house price can be around €1.5 million, one-bedroom apartment — €500 thousand, a square meter goes for €5500. Mostly, the estate price depends on the location, renovation, and floor space. The part of the city is great for families with kids, elderly people, and ones who prefer a quiet and steady lifestyle.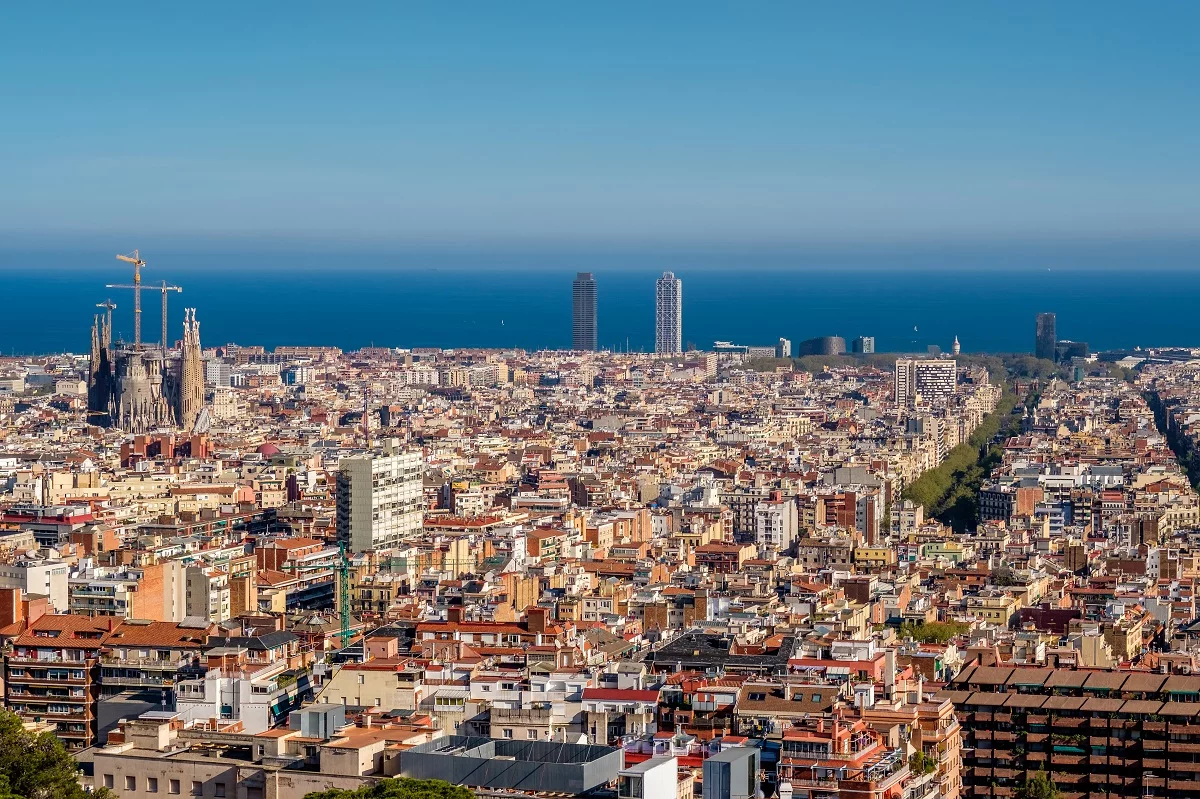 Gracia
This neighbourhood is famous among tourists because of the Park Guel designed by great Gaudi. Gracia is full of creative atmosphere that is loved by poets, artists, students, and bohemians. It's not an obvious choice for a family life due to small apartments and specific infrastructure. For example, there are not so many supermarkets and schools here. Nevertheless, the properties in Gracia are in demand. A square meter price starts from €1700, a one-bedroom apartment costs more than €350 thousand, a house price is about €550 thousand.
Les Corts
This neighbourhood contains three barrios: Pefralbes, Les Corts, and La Maternitat I Sant Ramon.
Pefralbes barrio has spacious elite houses with swimming pools, gardens, and perfect living conditions. The owners are usually people with higher incomes, prosperous families, European nobles. Most of the territory is built with at least 150 square meter villas, with the price of €7000 per square meter. There are mansions with the 500 square meter space. The price of them starts with a million euros. A small one-bedroom apartment will cost about €600 thousand.
Les Corts district is extremely comfortable for living. There are numerous parks, gardens, and parks. It is Barcelona's financial centre with lots of business offices with newly built houses alongside. Anyone can find a perfect apartment here: from roomy apartments to little studios. A square meter price begins with €5500. A house can be purchased for €600 thousand, and a one-bedroom apartment for about €300 thousand.
Every soccer fan knows La Maternitat I Sant Ramon barrio with a famous stadium of FC Barcelona «Camp Nou». There are a lot of accommodation options here, both prime and student. A university campus is located here that makes it a good investment area for leasing or purchasing of a property. Many supermarkets, offices and cafes are situated here as well. Foreign football fans prefer to rent accommodation, particularly in this barrio. Square meter prices start from €4500, houses cost around €500 thousand, one-bedroom apartments are about €250 thousand.
Sant Andreu
This suburban neighbourhood is pretty quiet. It's full with all the necessary infrastructure, and city authorities try to create more cultural venues like galleries, cinema theatres, and amusement centres. Prices, including for real estate, are reasonable. A house can be bought for €350 thousand, a one-bedroom apartment for €250 thousand, and a square meter is at the price of €3200.
Sarria-Sant Gervasi
An expensive neighbourhood Sarria-Sant Gervasi boasts luxury villas, mansions, and huge apartments. The wealthiest city inhabitants live here. Celebrities, famous sportsmen, and politicians are among them. The property assortment is especially wide. One can find here the newest modern apartments in freshly constructed buildings, old and new mansions. House prices begin with one million euros, two-bedroom apartments are from €500 thousand, a square meter, on average, costs €5700.
Nou Barris
The biggest advantage of this district is the lowest property prices. A house can be purchased for about €300 thousand, while in other parts of the city even a two-bedroom apartment costs more. A square meter is sold for €2500. The reason for such low prices is the undeveloped infrastructure of Nou Barris, especially transportation system. However, this part of Barcelona is actively developing with new houses being built, new stores opened, as well as cafes and offices.
Sants-Montjuic
The name of this neighbourhood comes from the highest mount in the city Montjuic. Barrio Poble Sec is located at its foot. The serene atmosphere of this area is perfect for families to live in. A few transportation routes are crossing the district that helps to reach most of the parts of the city within 5-15 minutes. Private houses and apartment buildings compose Sants-Montjuic. House prices begin with one million euros, one-bedroom apartments — with €30 thousand, a square meter costs €4000.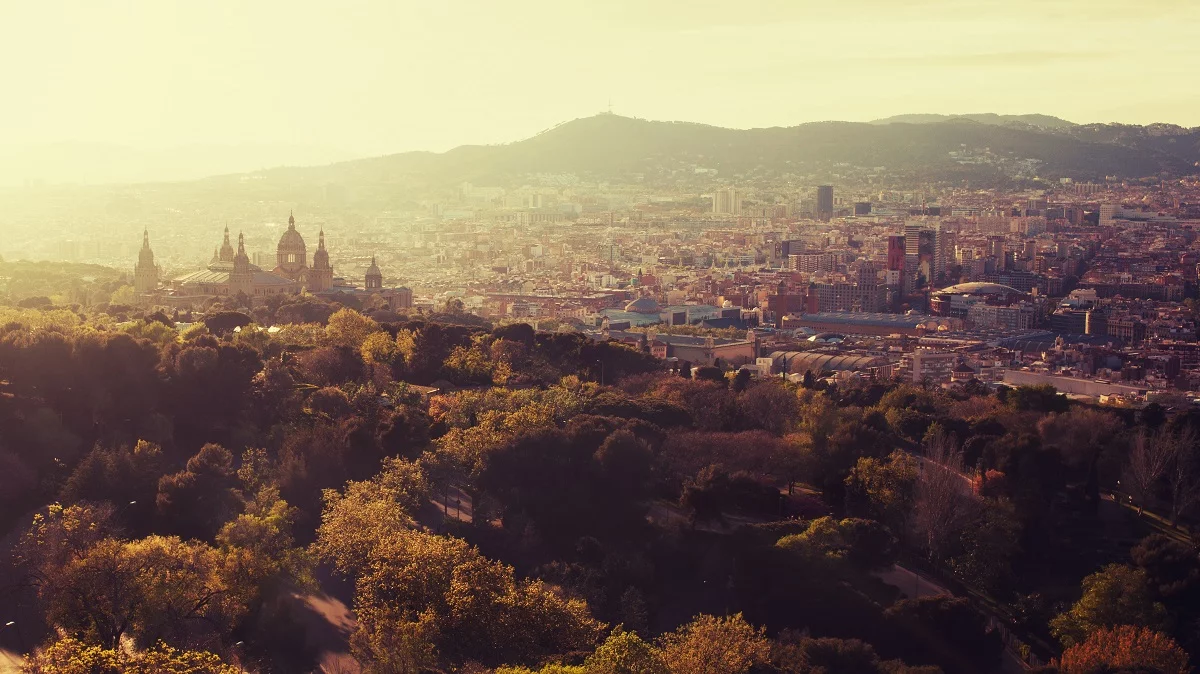 Horta-Guinardo
It is a comfortable and convenient neighbourhood for those who have kids. Social infrastructure is highly developed: lots of parks, supermarkets, schools can be found in this area. Part of the buildings is situated on the hills that guarantee amazing views of the city. Apartments cost slightly less than in other fine neighbourhoods. A square meter goes for at least €3500, a house — for €350 thousand, a one-bedroom apartment — for €150 thousand.
Sant Marti
This district has everything for comfortable living. Panorama of the Mediterranean can be seen from the property windows; the beach is within a few minutes walk. Coastal strolls, various party places and night clubs, many supermarkets, and shopping malls. An Olympic village was constructed here in 1992. Nowadays, residents are the ones living there.
Poblenou barrio is invested a great amount of money in. New commercial and office buildings, residential estate, roads, parks are being constructed. Considering this, in the nearest future, the neighbourhood is predicted to become one of the most popular ones to buy a property in. At the moment, a square meter costs minimum €5250, a one-bedroom apartment is about €350 thousand, a house price is €640 thousand.
The most expensive district of the city Diagonal Mar is also located here. It is the newest barrio with a modern infrastructure, new roads, expensive houses, and trendy designed apartments. The price of the last ones is €8600 per square meter, a one-bedroom apartment can be purchased for €500 thousand, a house — for €1.1 million.
The best neighbourhoods to live in Barcelona are Pedralbes barrio and Sarria-Sant Gervasi that make up the Zona Alta area. Properties here are costly but with it. These districts with a tranquil atmosphere have incredible views and developed infrastructure.
Among the most comfortable neighbourhoods to live in are:
Eixample, Gracia, La Maternitat I Sant Ramon (close to the city centre and universities) for young people;
Les Corts, Sants-Montjuic, Horta-Guinardo (parks, developed infrastructure, reasonable property prices) for families.
For apartment purchase Sant Marti seems to be the best option, considering that estate prices will be increasing in the future. Estate Barcelona agency can give you highly professional advice for apartment purchase or rent in the city.
Photo: Artjazz, Grigory_bruev, elxeneize, haveseen