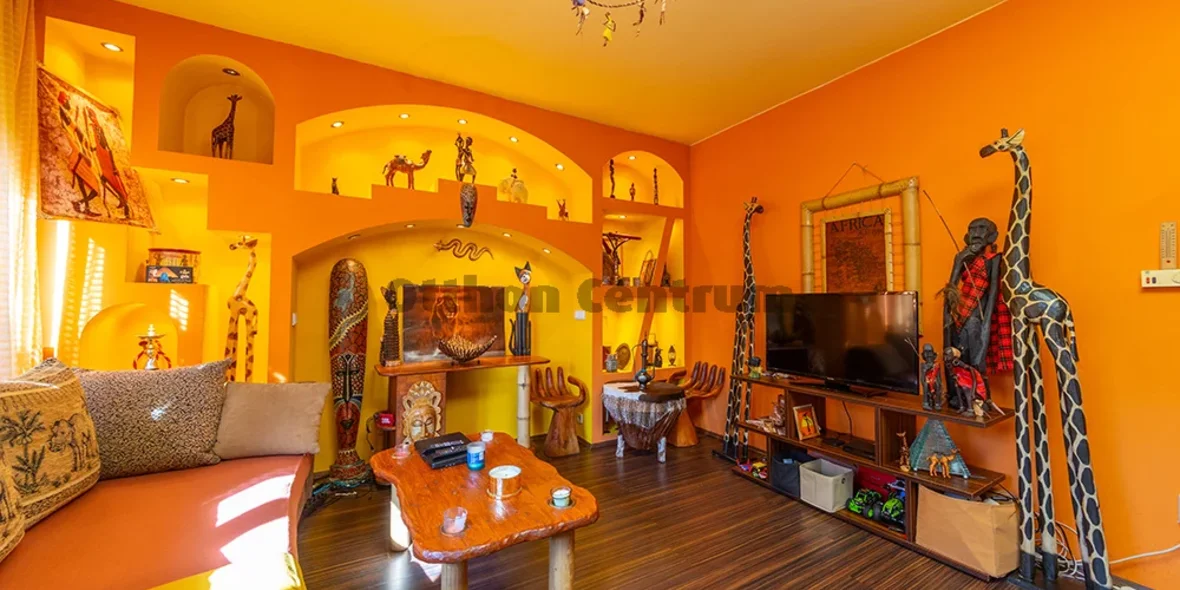 Luxury apartment or a house with an Eastern flair? We've found some unusual apartments and houses in Budapest
Budapest is a great place to for any taste, and our review is a good example of that. We have collected a variety of housing options in Budapest, all of which are beautiful in their own way.
Budapest, the capital of Hungary, stretches on both sides of the Danube River, and is famous as a city of baroque architecture, thermal springs and beautiful bridges. And in this atmospheric city, we've chosen five, no less distinctive, properties that could become your new home.
Luxury apartment with stylish design
This apartment is located in the historical center of Budapest, in a five-story building with an elevator. And the view from the windows of the apartment goes directly to the large and beautiful synagogue.
As stated in the ad, the apartment has recently undergone a major design renovation, which, in general, can be seen — everything inside looks very stylish, glossy, and original. The apartment has: living room, kitchen, 2 bedrooms, bathroom, toilet and 2 balconies.
The seller emphasizes that we are looking at a luxury apartment with quality materials, and most of the decor and furniture are custom-made.
Note that this apartment is the most expensive in our review ($594,901). More affordable options are on the way.
One-bedroom apartment in the Nordic style
This 1-bedroom apartment in Budapest is decorated in light colors and embodies the Nordic «vibe» — very popular now.
The apartment is small, with a total area of 35 m², but it is also quite affordable at $88,929. The apartment has one bedroom and one bathroom. All the necessary furniture is available.
In front of the house there is a small area where you can arrange a terrace or just a cozy place to sit out on warm days.
The price is $88,929.

2-room apartment in a house with columns
In front of you is a 2-bedroom apartment in Budapest, which is located in a historic and elegant columned house.
The total area of the accommodation is 51 m². Of the main rooms are 2 bedrooms and 1 bathroom. It is worth noting that this apartment is duplex, which means that upstairs there is another small area that can be arranged to your liking.
The interior of this minimalist apartment is dominated by brown, black and gray tones, which are nicely complemented by original paintings on the walls. The renovation is done well, but there is still some work to do (particularly in the kitchen area).
The price of the apartment is $137,342.
A 6-room house with its own plot
If you are not interested in an apartment, but a house in Budapest, we suggest you pay attention to this option.
The house itself is quite spacious (119 m²): there are 6 bedrooms, 4 bathrooms and a billiard room. At first glance, everything looks quite simple and modest (except for the leather sofas, which strongly stand out on the general background).
Along with the house, you also buy a 557 m² plot of land: there are, for example, swings, a barbecue area and a garage.
You can for $379,666.
House 5 rooms in an Eastern entourage
This house is the highlight of our review. If the exterior of the building does not stand out much, then going inside, you will be surprised — you will not see such an entourage and interior, to put it mildly, very often. Everything here is dotted with oriental motifs, and the color scheme of the interior can be described as «very bright». In short, what can I say, you have to look at it.
The house is 116 m² and has 5 bedrooms and 1 bathroom. This home also comes with a cozy 366 sq. ft. lot with a dining area and a swing.
The price is $196,203.