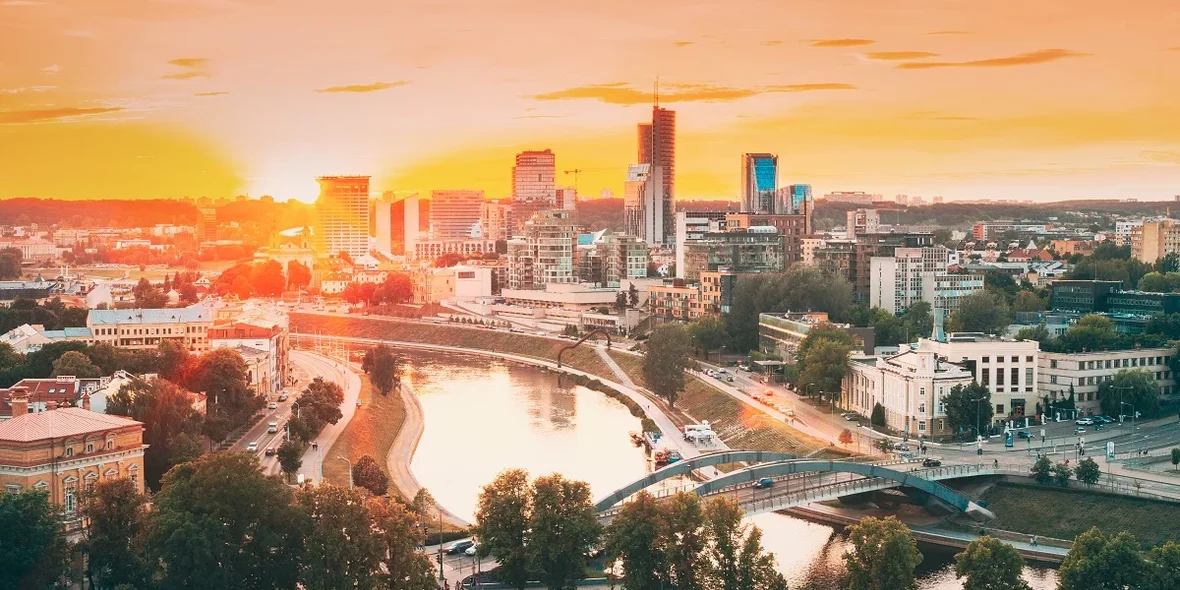 «We spend 200 euros on food a month.» A Belarusian girl about moving to Lithuania, cost of living and peculiarities of Lithuanians
How to move to Lithuania, and what are the grounds for that? For how much is it possible to rent or ? How much money will be enough to live comfortably per month? These are the questions that all people who want to move to Lithuania have. You will find the answers based on the personal experience in this text.
Some people move to Lithuania to work, some to study and some to do business, each has its own story. We share one of such stories today. Valeria from Minsk told us about her experience of moving to Lithuania and the difficulties associated with it, the search for housing and the average cost of renting in Vilnius, as well as about the Lithuanians and their characteristics.
«I always dreamed of living at least a little bit in every country in the world»
— My name is Valeria, I am 27 years old. I was born and grew up in Minsk. By education I am an interpreter-referent, I graduated from the Moscow State Linguistic University in 2017. Since then I've worked in various fields (sales, law firm, hospitable in major events, sales again, YouTube, IT) and now I'm immersed in the world of digital marketing. I currently work as a copywriter, do SMM, create content for venues and brands, and run my own gastro and travel blog on and .
I've been traveling a lot since I was a kid and have always dreamed of living at least a little bit in every country in the world, but the biggest place in my heart has always been Europe. Just a few years ago I thought it would be interesting to move to Lithuania for a while as a transit hub between the EU and Belarus — low-cost flights available and, at the same time, close to family. Well, be afraid of your desires, as it is said.
We moved about six months ago, on June 6, 2022. The thing is, the company where my young man works decided to relocate employees to Lithuania — due to the fact that one of the company's offices has been in that country for many years, it is possible to get a full-time job there (unlike in Poland and Georgia, where you would have to open an IE). But this, of course, was not the only criterion for choosing Lithuania.
---
---
Another important factor was the distance from Minsk — still 180 km somehow morally easier perceived than the same Tbilisi or Warsaw (to get to which now faster than 24 hours, I think, is impossible). Georgia didn't suit us, because the young man suffered from aerophobia, and Poland seemed to be utterly unexplored in contrast to our almost «native» Lithuania (both the boyfriend had been there often, and I had spent a lot of time since I was 9 years old). So we made the choice to go to Lithuania.
«It turned out that as a couple we could not move to Lithuania»
— As part of the relocation from the particular company where the boyfriend was employed, you had to have 5 years of experience in your current position or higher education; also the salary had to be no lower than the living wage in Lithuania — as I recall, it was about 1,600 euros as of January 2022.
Note. Here are the grounds for relocation to Lithuania now: family reunification, work, study, doing business, etc. You can read about all the nuances of moving a business to Lithuania in .
What are the migration requirements for moving to Lithuania:
National Visa (D). It is usually issued to those who come to Vilnius to work or study for less than a year.
Startup Visa. This option is designed for startup founders who want to launch their business in Lithuania. Once your business idea is approved by the Lithuanian expert committee, you can get a temporary residence permit.
EU Blue Card. This is a residence and work permit for highly qualified non-EU citizens.
— We experienced some difficulties during our relocation process. It turned out that we could not move to Lithuania (unlike Poland and, moreover, Georgia) as a couple: I was temporarily unemployed at that time and decided to arrange myself a so-called GAP YEAR, which meant that legally I had no grounds for moving to Lithuania. Moreover, the fact of partnership with an IT specialist in Lithuania is not an argument for a visa and residence permit (even if you have a few years of life together, photos, tickets and socks on the radiator mixed up — it all does not work). In such an unromantic way, we hastily signed and brought the marriage certificate to the HR-specialists in the office of a husband already.
We had to prepare the marriage certificate, photos, and passports; we also had to collect all of my husband's employment contracts from all the companies where he had worked in the last 5 years. The rest, to our great joy, was taken care of by my husband's company: many IT-companies now have departments to work with relocation of employees, so there is nothing surprising. Then, with all the documents, we went to the visa center for a six-month visa D, in the course of which we have to get a residence permit in Lithuania. As a result, from the day of the wedding to obtain a visa passed about two months.
«Food prices are the same as in Belarus, and even lower»
— I started the initial housing search a month before we moved. It was important for us to have two-room apartment, because we both work from home most of the time and everyone needs personal space; it was also desirable that the apartment was close to my husband's office.
At the beginning of May, we selected about 70 apartments we liked; then we decided on the areas we were interested, so the list was composed of 39 apartments till this time ( later we added a few more options from the new listings).
The first morning in Vilnius, I wrote to all of the owners of our selected apartments and began to arrange meetings. The first day I looked at 8 or 9 apartments, my husband joined in the evening — after all the viewings, we were squeezed like a lemon. By the middle of the second day we had already decided on the area we wanted, and in the evening we found «the right» apartment.
The rental price situation changed every month, so I'm not sure it's the same now. But in June, «two-bedroom» with good repair and all appliances not on the outskirts of the city were from 500 euros and up to infinity; «one-bedroom», of course, were cheaper, and find a cozy apartment at 350 euros was still possible (utilities are not included in these figures, and also can be very different). By the way, for the sake of curiosity, we learned the prices for rent on the west by the sea (Palanga / Klaipeda) — there were options for 150 euros for «two-bedroom» on the beach.
Note. Foreigners can buy any real estate in Lithuania (except for land). You can of 50 sq.m. on average of €160,000 (in the city center), outside the center — for €100,000. It is important to note that Lithuanian banks do not arrange mortgages for foreign citizens; you can only get a mortgage if you have a residence permit in the republic. Read more about how to get a mortgage in Lithuania .
— Now let me tell you a little about the cost of living in Lithuania, based on our experience. Food prices are the same as in Belarus, and even lower: meat, fish, seafood, jamon, and exotic fruits have become something affordable, rather than «food for the party. If you do not deny yourself anything, one trip to the store costs 40-60 euros, and such a food basket lasts for 1.5-2 weeks. Roughly speaking, 200 euros a month is spent on food and, if necessary, alcohol.
In the restaurants, the prices are the same as in Minsk, or 20% more expensive. Clothing and shoes are almost 50% cheaper than in Belarus. The only beauty services I`ve tried were manicure/pedicure (20-50 euros), massage — within 20-40 euros. A membership to a sports club is about 30 euros. Cab costs 3-8 euros; renting electric scooters is much cheaper than in Belarus (once I went almost from one end of town to the other and paid 5 euros).
It seems to me that if there is 1500 euros per person, it would be a fairly comfortable life. But, of course, this is a very subjective question: someone can't live without traveling, someone smokes a lot, someone is a homebody, and someone likes to go to the local «Zybitskaya» and relax in bars — it can all be a huge additional expense or, conversely, save your budget.
«On a Saturday evening, you can meet a lot more people at the gym or swimming pool than at the bar»
— People in Lithuania have a different mentality — less about «seeming» and more about «being»: for example, people here dress more modestly, practically and in style (not dressy, but tasteful). Service at the bank, government institutions, and in the store is very pleasant, whereas in the institutions, on the contrary, it is sometimes worse than in Minsk. In general, it's the opposite: if the private sector in Belarus is beautiful and of good quality, then in Lithuania they do not bother much; the situation in the institutions is the reverse — in Lithuania they serve you very quickly and provide polite support (in contrast to the same Minsk).
On Saturday evening you can meet a lot more people in the gym or swimming pool than in the bar; the course towards Scandinavia is felt. For us this healthy example became contagious, and we are very happy about it.
Actually, we like the life in Vilnius because all conditions for healthy habits are created here: sports and educational spaces are free or cheap, while tobacco products are quite expensive, and alcohol, for example, is not sold after 8 pm in stores (on Sundays even after 15:00). And, of course, the emotional background here is more relaxed, ecological or something.
Of the cons: within the circle of institutions, stores, sports clubs, for some reason is not developed the concept of social networks, but it would be very helpful in everyday life, so that one can elementary learn information about all these places. I also do not like sushi in Lithuania — this is my personal drama, because I adore Japanese food. But the meat here is amazing and there are a lot of Chinese restaurants. And, of course, we don't like being away from our loved ones — we really miss people.
Now a few words about infrastructure. Vilnius is not yet a big enough city to have a metro, but it's already big enough to feel uncomfortable using only the available public transport. But personally for us it is not a problem, as we do not need to commute to and from work every day.
The city has lots of bicycle lanes, little construction work; it's not as dirty as in Western Europe, and there's a lot of greenery. If you thought that Minsk is a green city, you will be pleasantly surprised because everything here is drowned in parks and greenery.
The districts are very different: there is the old city with its famous labyrinths, there is the Soviet heritage, there are modern beautiful residential areas, and there is also the local Times Square, as many call it, which is an area with skyscrapers, where many banks and offices of large companies are concentrated.
My main advice for those who want to move is to prepare, prepare, and prepare again. It will be much easier and faster for you to settle in if you do your «homework» before you move. There is no shortage of helpful resources in the 21st century, so actively use them.