«To buy an apartment or a house, you need to have an account with a local bank». What difficulties one can face when buying real estate in Spain
Seminar for those who wish to buy an apartment in Spain was held in Minsk. People came even despite the threat of coronavirus. And not just to listen. Judging by questions — the audience wanted to clarify certain financial matters. After the seminar, the international real estate platform REALTING spoke with Alexander Dashevsky, the founder and CEO of real estate agency «EspanaTour».
Let us remind you that «EspanaTour» specializes in selling apartments in the Costa Blanca region. In addition to 320 sunny days a year and the sea, the region has three advantages: affordable price for real estate even by Belarusian standards, a chance to buy an apartment on a mortgage and rent it out all year round — the coast is hearted on by the Scandinavians who come here to spend winter.
— There are a lot of Belarusians among our clients, — says Alexander Dashevsky. — Belarusians are mainly interested in apartments; most have a budget of 60-80 thousand euros. The purchase of an apartment in Spain, judging by what the Belarusians say, is either a «pension safety net» or a launch pad for migrating to a permanent residency in 2—5—10 years. One of our Belarusian clients, for example, bought an apartment on trial, and rented it out. He arrived and purchased the second apartment on a mortgage and also rented it out. He says, «I'm getting ready for my retirement — in about ten years I want to have a well-deserved rest, I will relocate.» In the meantime, he is buying apartments that will «work». He is in Spain two or three times a year, he likes the country.
— What is the income source of the Belarusians who buy real estate in Spain?
— All of them are representing medium business. From Minsk, Mozyr, Grodno — these are the towns many our clients came from. Perhaps, there were other places, but definitely less.
— Where on the Costa Blanca do «our countrymen» buy real estate?
— They prefer the cities of Torrevieja, Orihuela Costa, small towns nearby — housing there is not expensive, just for 50-60 thousand euros you can select decent apartments. The more dynamic Benidorm is also popular on the coast but prices there are higher, about 150-200 thousand. Belarusians are rarely interested in Benidorm.
— That means, not our wealthiest citizens are going to Spain?
— I am glad that in Belarus medium-sized businesses can afford purchase of property in Spain. This is a good sign. In some countries, only «big shot» businessmen can afford such purchase.
— You were born in Ukraine, dealing with Russian-speaking clients. What do Ukrainians select?
— Ukrainians are the richest buyers from the post-Soviet countries. Average entrepreneurs, farmers (yes, farmers!) can consider real estate even in Benidorm.
How to buy an apartment in Spain. Guidance
— The scheme, I believe, is of many peoples' interest — how to buy an apartment in Spain and rent it out with the prospect of relocating closer to the sea in retirement. Is there any step-by-step instructions?
— Yes. To get started, look into the matter. In the search engine, enter «to buy property in Spain» — and 20 companies will drop out. Start correspondence with them. Then evaluate, how quickly they provide a feedback, how professionally they respond, what they say. Most companies will fall away because you will be not interested to them. There will be two remained. Select one of them and inform that you are ready to come and see their options on site.
It should be noted that when you go to the selected company, they will treat you as the most expensive guest, even if you have a budget of 40-50 thousand. They will work because they know that they will receive their commissions, moreover, from the seller.
Before your arrival, the company will send a list of documents that you must bring from your country to open a current account in Spain.
(At the seminar, Alexander explained: in Spain, real estate can be paid only by the bank transfer. And for this purpose your current account with a Spanish bank is required).
— That means, a person who wants to buy housing with «EspanaTour» arrives fully prepared — he is well aware of the region, he knows the properties to select based on his budget that he will select live, what streets, playgrounds, shops, and beaches are around. If the apartment is a secondary market and is rented out — the client sees a rental schedule by months and amount of income. In his hands — already translated documents required to open an account.
We draw up a contract of sale, provide a translator for free, a manager for free — we accompany the transaction from start to finish. And after. When you become a happy owner of real estate, we help you to connect the Internet, make, if necessary, minor repairs, and rent your property out.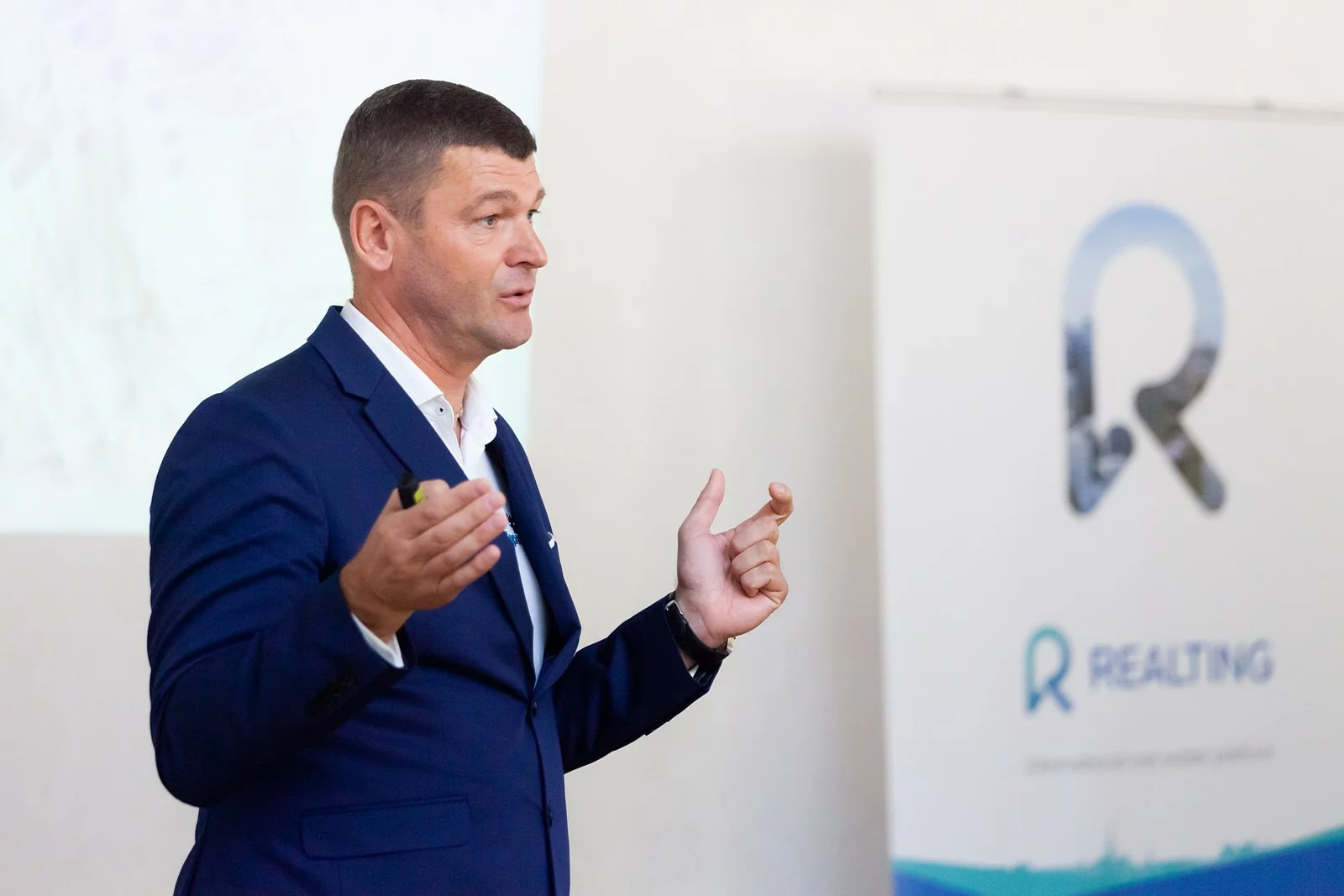 Taxes and expenses: transparent and predictable
At the seminar, Alexander reminded: a 10% tax on real estate purchase of the transaction amount shall be paid to the state. If you place your apartment in the agency, so that it rents it out, expect that about 22% of the rental price shall be given to the agency accordingly. The agency function is not only to find landlords, but also to provide cleaning, consumables like cleaning products and toilet paper.
In Spain, one pays a real estate tax, but don't be scary — on average, apartments in Torrevieja — 145-200 euros per year. There are payments for the common property usage of a residential complex — a green area, a swimming pool — the amount is usually comparable to the tax. The data is not confidential. It is mentioned in any property listings, along with the total area of the apartment and the number of bedrooms. The peculiar feature of real estate transactions in Spain is no hidden rocks. Even if you buy an apartment in a house under construction, the state guarantees the contractual price invariability and the fact that the house will be completed.
How to export money to Spain legally?
This is the main issue that our future buyers worry about.
— Right and legal way — when you open a current account in Belarus, order a permission to withdraw money from the bank (it will be technically correct to contact your lawyers — the legislation has changed so many times in Belarus that I'm no longer aware of what is required here at the moment. Although, I do know that Belarusians were allowed to open accounts in foreign banks). How much the transfer costs, you also need to check, your Belarusian bank will take part of the money, a Spanish bank part is usually in total of around 2.5% of the amount.
Therefore, Alexander clarifies, most of the clients «distill» only part of the money by bank transfer. Some of the funds are carried in cash to avoid commissions. And here the quest, though not difficult, begins.
— You cannot simply open an account with a Spanish bank — you need to send a Letter of income verification and a Certificate of your job position to the manager of a real estate agency, he will translate the documents and send them back to you. You shall enter Spain having these documents.
The law of Belarus allows export of currency in small amounts in cash. That is what your citizens do — they gather relatives, give them out in an amount equivalent to 10 thousand dollars, go to Poland, in Poland they put everything into one suitcase, and then the buyer goes to Spain by plane with the required amount. In Spain, at the airport of entry you must declare these funds. Otherwise, the bank simply will not accept them.
Moreover, there is only 24 hours to deposit the declared amount into the Spanish account.
— According to my calculations, a family of 3 can legally export 24 thousand euros per trip. You can bring the whole amount for 2-3 visits, and not thinking about transfers«, — suggests Alexander.
All the details on how to declare imported money, Alexander tells in his video. It is more difficult if you want to take a mortgage in Spain. The mortgage assumes that you pay 40-50% of the apartment value by yourself; the bank lends the remaining amount to you at 3.2-4.5% per annum. Your first installment shall be paid by bank transfer. But not all Spanish banks are generally ready to open accounts with foreigners. Therefore, real estate managers recommend a list of three loyal banks. They will also help with calculations and determining the probability of obtaining a mortgage loan. To obtain a mortgage loan a Letter of your income verification is required. You should not lot upon a mortgage if your legal income (that confirmed not only by the verification letter, but also by an account statement) is less than one and a half thousand euros.
As a matter of fact, the Head of «EspanaTour» at the seminar clarifies: the return on renting apartments is about 6%. Income from renting out an apartment can cover up to 60% of mortgage payments. That is, you should not expect that in Spain you can buy an apartment at half price and pay off the mortgage by renting it out.
In addition, a mortgage contract includes obtaining of insurance. Opening an account, paperwork, insurance (that, in fact, includes 8 visits to Spanish doctors per year) will cost about 2000 euros.
In recent years, property prices in Spain have been rising. In addition, housing by the sea provides Belarusians with the «European perspectives» — of recreation and relocation.
— When buying a property, the whole family obtains a multi visa. If you travel abroad often, you can apply for a five-year Schengen. But you can get a residence permit. The first one is given for a year, without the right to work, then twice — for two years. Then — for 5 years. After 10 years of legal stay in Spain, you can apply for a Spanish passport. As life shows, time spins away.
By the way, children can study in Spanish schools for free even if you have a residence permit without the right to work. And even after your 10 years stay in Spain, not everyone shall be able to get a Spanish passport. I live with a residence permit. I have all the rights of a Spaniard, except the right to vote, to be elected and to work in the police. But that's quite OK for me.
Pavel: Pavel Sadovskiy