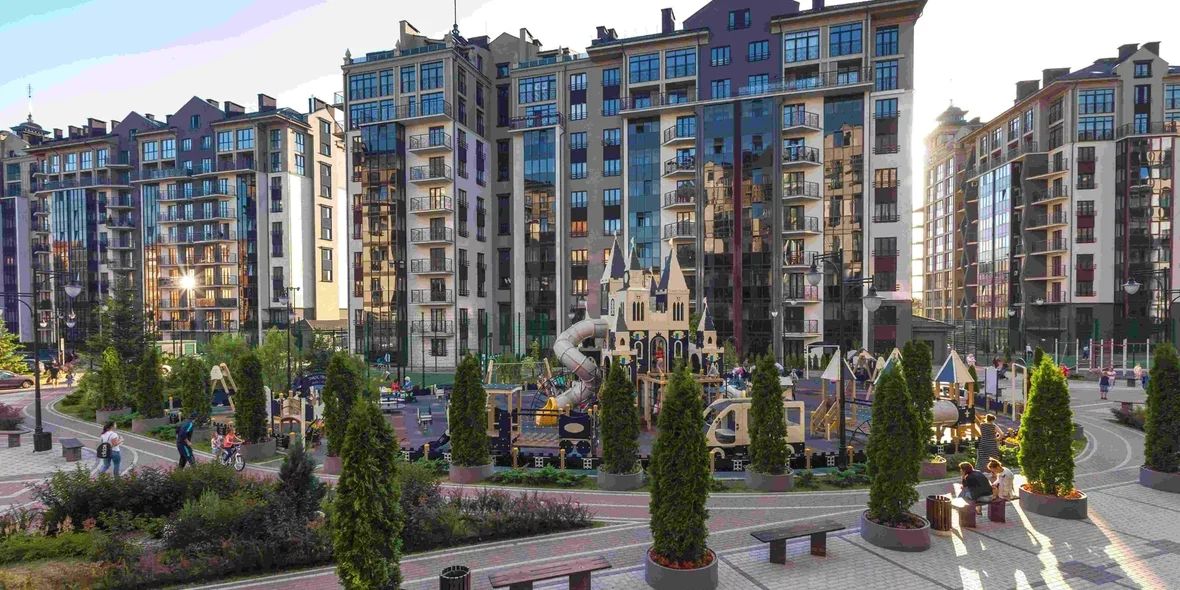 We slow down to improve quality of life. How «Happy City» is being built in Kaliningrad
Kaliningrad is often called Russia's most European city. The local architecture surprises everyone with its diversity and dissimilarity to the usual urban views of Russia. In addition to the city's historical buildings, residents and guests of the region have already added the «Tsvetnoy boulevard» residential complex to Kaliningrad's legendary landmarks list. In 2018, it was recognized as the best regional comfort-class residential complex at the X annual Federal award in the field of urban real estate «Urban Awards 2018».
The developer's next project, which was implemented in 2019 in the resort town of Svetlogorsk, shocked Russians in the best sense of the word. Located on the coast of the temperately warm Baltic Sea, it is distinguished by a fireplace in the winter garden on a usable roof and the possibility of installing a Russian bath made of royal cedar in its apartments. The already famous «nudist beach» on the roof and the bell used to communicate with the vacationers who enjoy it have already become legendary. By the way, you can visit this club house and meet the famous Koenigsberg cat Murr every Sunday, and, most importantly, Viktor Ivanyuk, the head of the «RusskaYA EvropA» (Russian Europe) project, will meet you there and offer you a special excursion.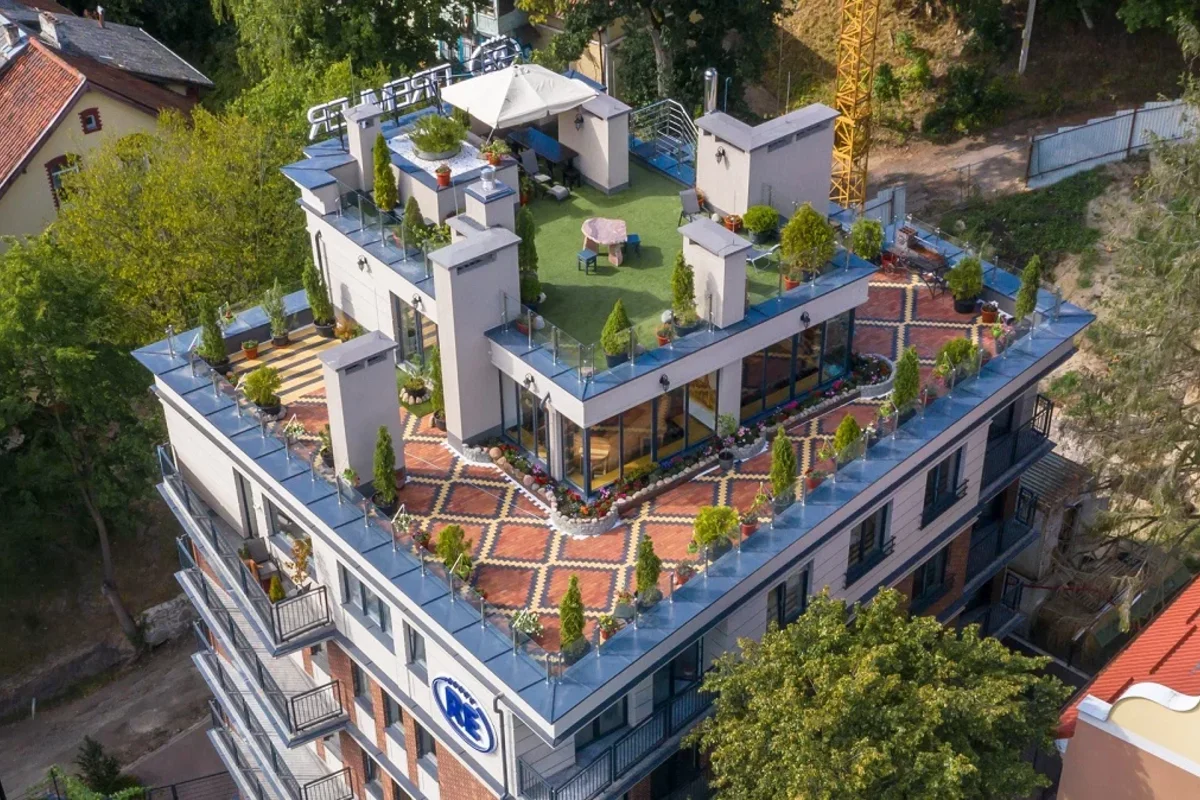 And now let's talk about the first Happy City in Russia: a new project by the «RusskaYA EvropA» Group of Companies. People travel here from different cities in Russia to buy apartments in the ECOneighborhood. This is why our partner REALT has asked the project manager of the developer Group of Companies «AvangardInvestProekt» why there has been such a boom in their facilities, why apartments are cheaper to buy from a realtor and how a video with an overview of his apartment in the RE PREMIER club house in Svetlogorsk got 1.6 million in TikTok views.
«Stop building up Russia with rubbish!» — this is one of the most memorable and brilliant quotes by Viktor Ivanyuk, the project manager of the «Tsvetnoy Boulevard» residential complex and the Happy city «RusskaYA EvropA». He also holds the title of «Honorary Builder of Russia». This specialist with 40 years of experience in this field believes that current new buildings are stuck in the past and have long been far from providing a comfortable environment for people's life.
— Developers don't know what their consumers want. We conducted a study, and on the basis of the data we built the housing that people want and imagine for themselves. Our sales and the hype are proof that our way of working is right and productive.
Viktor Ivanovich and another 35 employees of the company once bought apartments in the «Tsvetnoy Boulevard» residential complex, which they themselves built, in order to «feel out and improve subsequent projects».
A picture of the «Tvetsnoy Boulevard» residential complex
The stages of work on the project of the new ECOneighborhood are fundamentally different from how developers work on the market. First off, the design bureau of the «AvangardInvestProekt» company developed the layouts of the apartments, then an architect competition was held to find the best among them: the one who would design this «architectural experiment».
And this decision justified all the risks. First of all, the buildings' facades are an ensemble of different styles and details: from modern and classical to complex parametric walls. Secondly, where else have you seen space for a Russian bath next to private bathrooms in apartments?
— Our layouts are designed so that you will always live in cleanliness and comfort. We have divided the apartment into «dirty» and «clean» zones. Based on this concept, intercoms were installed in the kitchens so that people would go up to the door less often and spread less dirt, — says Viktor Ivanyuk about the project's innovations. — At the entrance to the apartment there is a guest bathroom and a room with laundry functions where all chemicals for cleaning and washing are stored.
In addition, each apartment has autonomous heating system regulated by a compact heating unit. We even have energy-saving panoramic windows to support noise isolation. Since the houses are designed as ECO, the developers decided to abandon gas in favor of electric stoves.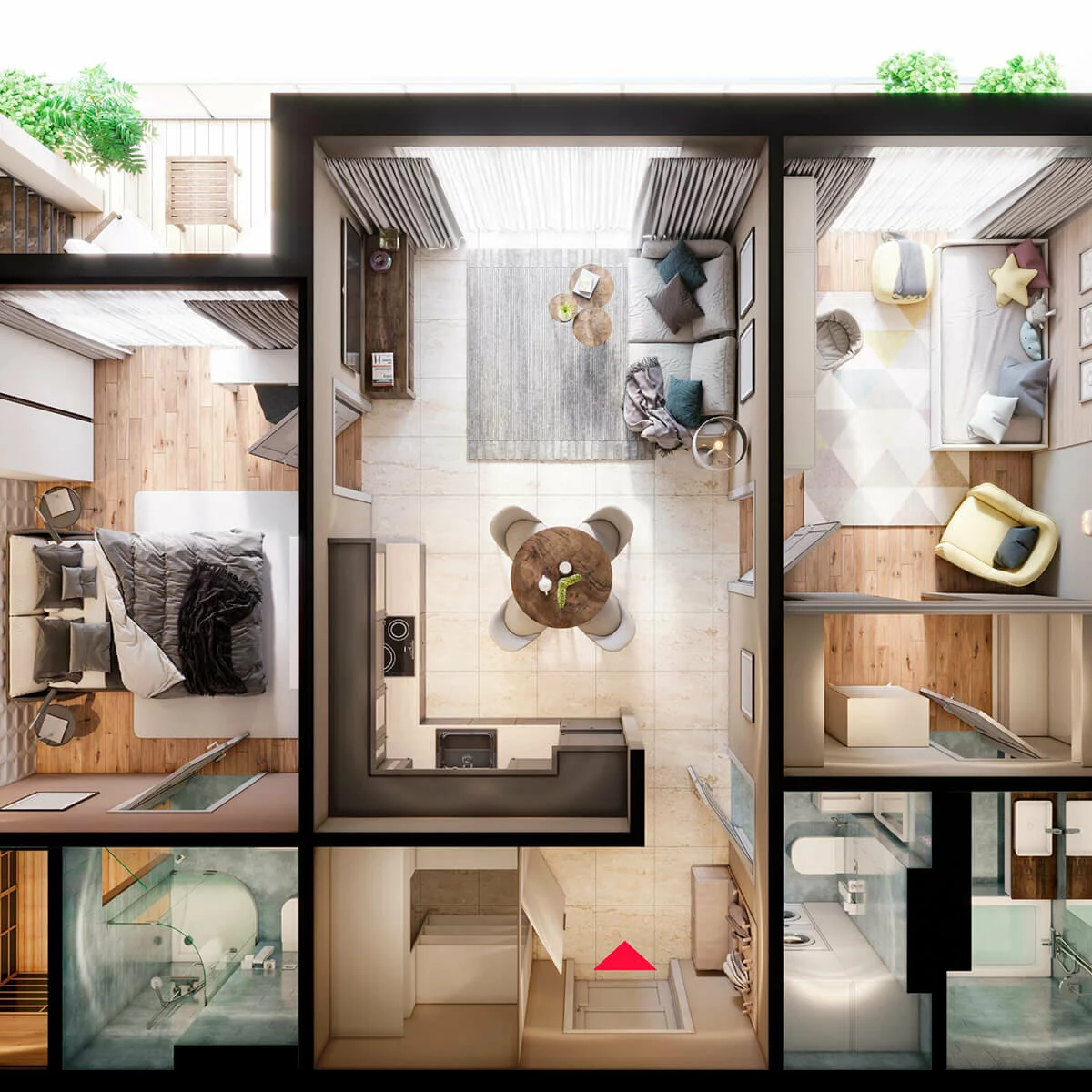 Toilet rooms for children are designed in the entrances so that they will not have to constantly run home. A changing table, a hairdryer, a mirror, a hand dryer — parents and babies have an entire hygiene kit is at their service.
— For us, the view from the windows, which residents will look at every day, is also important, so we took care of the territory adjacent to other houses. For example, in «Tsvetnoy Boulevard», we improved the facade of a neighboring house, built a common road and planted a Thuja park.
«RusskaYA EvropA» consists of 6 residential complexes and an educational cluster that includes a kindergarten and a school. The first residential complex, «Adres schastya» («Address of Happiness»), consists of five buildings ranging from 9 to 14 floors. It will be commissioned in mid-2023 along with its entire infrastructure. It will house 641 apartments on a total area of more than 60 thousand square meters, as well as almost four thousand square meters of non-residential installations. Its underground parking is designed to fit 472 cars.
General plan for the development of the ECOneighborhood «RusskaYA EvropA»
The layout of the courtyard was thought out to fit the concept of a «courtyard without cars» and provides several universal playgrounds, a tennis court, workout installations, a courtyard trampoline, a football field, a basketball court and dog-walking grounds.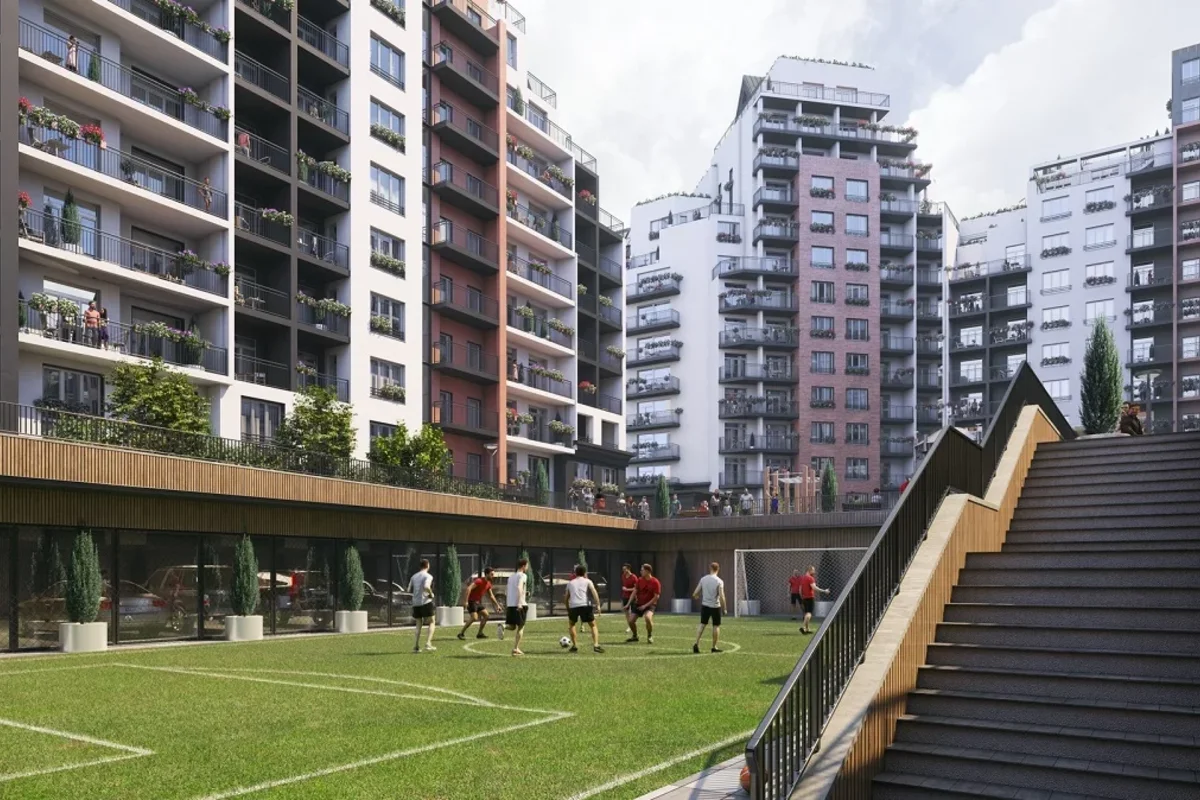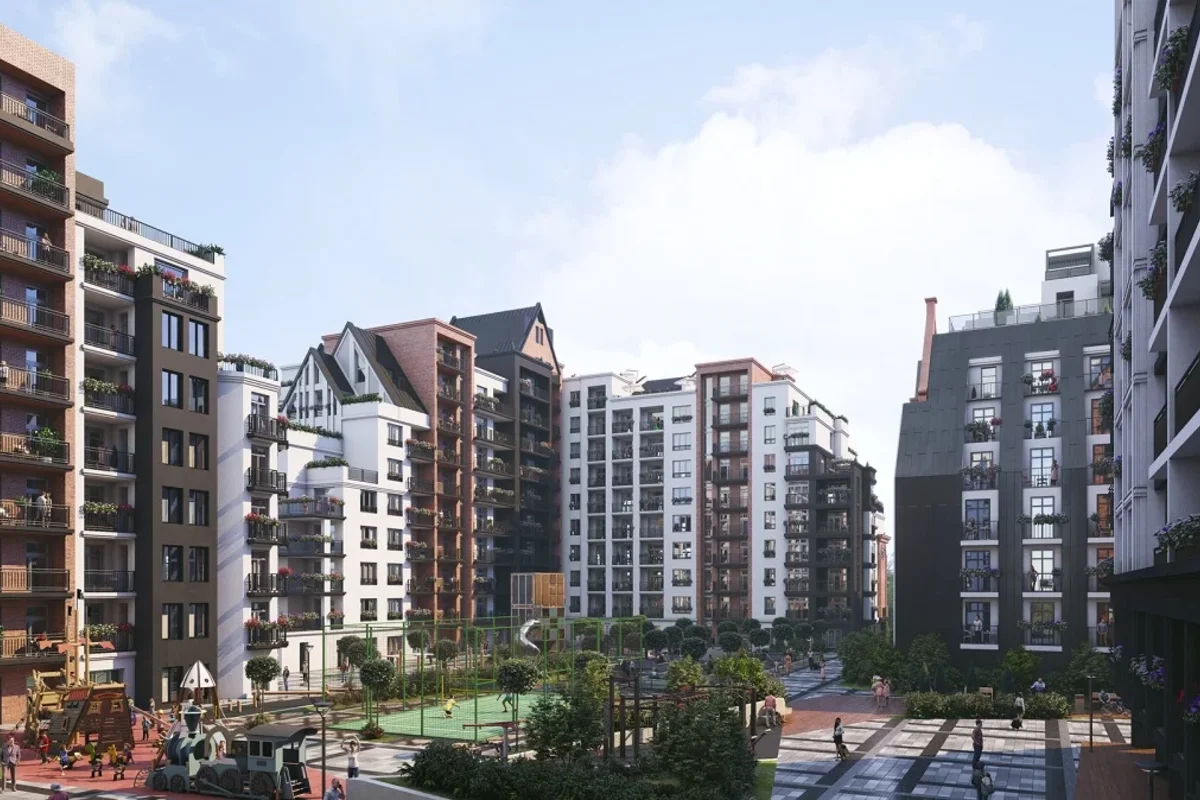 — «RusskaYA EvropA» is the first Happy city in the country. This means that its inhabitants will have everything they need at hand: shops, a clinic, a kindergarten and a school, some will even work on the premises. The neighborhood will live according to the «slow city» principle: we improve the quality of life by slowing down its rhythm. We thought that when spending time on the road, shopping and waiting in traffic jams, a person loses a lot of resources, even from the financial point of view. Living in a place where everything is within walking distance, a family can save money for their child to have an apartment by the age of 18, according to the economic calculations of the project's creator.
Basically, as it happens in the residential complex «Tsvetnoy Boulevard», apartments in the first residential complex within the ECOneighborhood «RusskaYA EvropA» are mostly bought by residents of the Far East, Murmansk, the Far North and Kazakhstan. 50% of housing is taken by Kaliningraders who wish to improve their living conditions, themselves.
— We work with escrow accounts, which significantly increases the level of customer confidence. Their operational principle is as follows: the future owner of an apartment puts money into the account, and the developers receive it only once they have fulfilled their obligations. Financing from one of the leaders in development financing in the country: Bank DOM. DOM.RF guarantees the completion and commissioning of this unique facility exactly in accordance with its original schedule, Viktor Ivanyuk assures.
Anna Avdokushina, Vice-President of Bank DOM.RF, described the object as follows:
— The first residential complex in the new ECOneighborhood in Kaliningrad will become one of the most remarkable housing projects in the region.
Last year, the company sold real estate for a value of 100 million rubles more than before the project, all while saving 12 million rubles on advertising. Just one video on Viktor Ivanyuk's personal Tik-Tok account brought in 1.6 million views. In it, he made a short overview of an apartment with a note at the end: «This apartment is waiting for its owner.»
— All advertising is based on the main question for every person — their desire to arrange their personal life. So many women responded then! And so word of mouth started working, the head of the «RusskaYA EvropA» is sure. His TikTok account has 75.2 thousand subscribers, and that figure keeps growing every day. — I asked all employees to learn how to work with social networks. Their profiles are our free advertising, and they have a lot to show the world — their own apartments and their life in our residential complex.
All in all, according to the developer, the most powerful channel for promotion is not managing your own advertising, but attracting realtors for partnerships. «AvangardInvestProekt» began working with different partners back in 2019. Today, they provide up to 50% of equity participation agreements. They are planning to raise this figure up to 60% in the future.
— We pay realtors 3% of the cost of the apartment. In addition to that, the way the system is built, a square meter in an apartment is 1000 rubles more expensive within our sales than if it's being sold by a partnered realtor, so real estate agencies are interested in cooperation, — Viktor Ivanyuk explains the scheme of his work.
That way the company saves time and money that would otherwise be spent on advertising and maintaining a large sales force. And their partner network is only growing and getting stronger.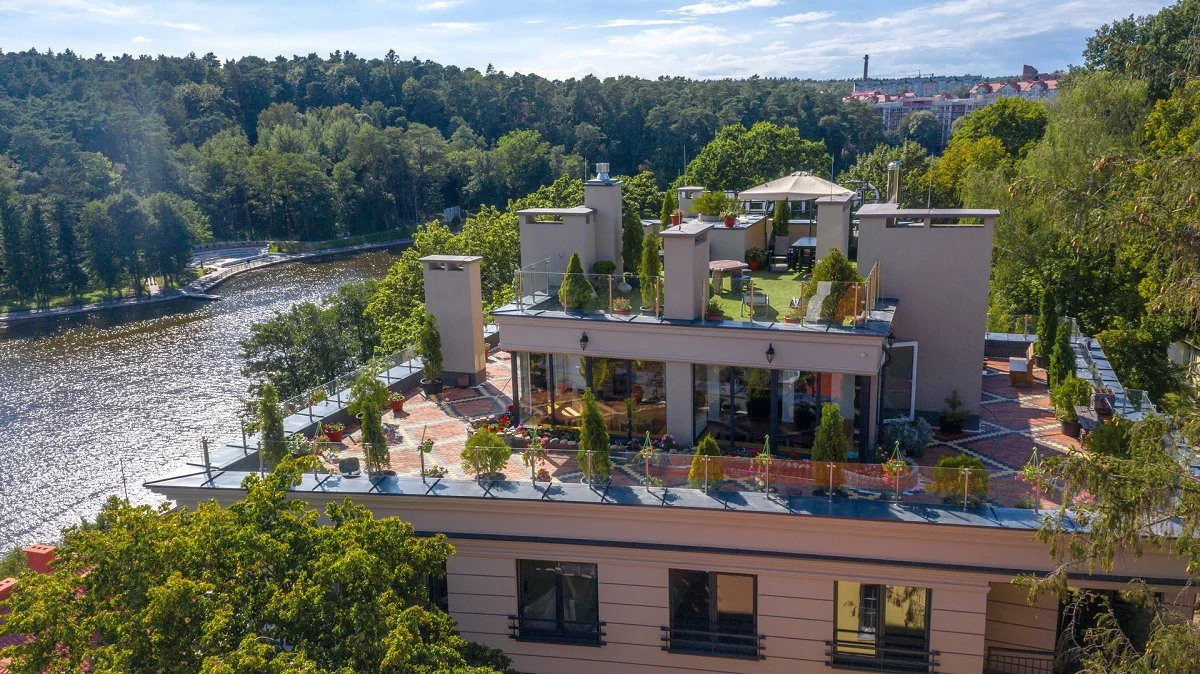 Besides, apartments sales happen in the auction format. Both direct buyers and realtors participate in them. It is there that the market value of a residential property is determined. A lot — an apartment — is put up for auction at a price equal to the profitability of its construction. And the interested parties place bets, and thus the cost of the apartment reaches market indicators.
— At one time, we conducted a tour of the new building with partners from other cities so that potential buyers could try to imagine their new life there in the flesh. They paid for the tickets if the apartment was bought in the end. This soon lost its relevance. First of all, more and more people are deciding to move to Kaliningrad, and people from other regions find us themselves. Secondly, confidence in online transactions has grown over 2020, the service has improved and has become completely secure. Now you can buy an apartment without leaving your home in Khabarovsk, for example.
Viktor Ivanyuk has visited many cities in Russia and believes that the country cannot yet boast such projects. Decent new buildings can be found in Moscow, St. Petersburg and Tyumen, he has not seen interesting property in any other cities.
— It's better to experiment and take risks, to build something unusual. Moreover, multi-apartment housing in Russia is the present and the future, as there is practically no choice now. There are only slums left, the housing stock is impoverished, it's high time to demolish all those Khrushchev-era houses. So many more people need quality housing — you can go crazy just thinking about it. In the next hundred years, we won't be able to cope with the rising volumes, — says Viktor Ivanyuk. — And we need to build not high-rise buildings of 20-25 floors, but beautiful and comfortable houses that are no higher than 12 levels.
«AvangardInvestProekt» are not afraid of competition, on the contrary, they would like other developers to catch up to their level. Viktor Ivanyuk doesn't really keep up with Belarusian developers, but he praises our builders:
— They do their job very efficiently. Belarusians strive to bring something new to the table, which is why the services of Belarusian designers are so popular among Kaliningrad developers. It would be an honor for us to sell apartments to Belarusians in Kaliningrad.
The developer is not planning to experiment in other cities:
— We have to master this first. We have no ambition to earn a lot with no rhyme or reason. We want to build a neighborhood that everyone will look up to.
Source: Realt.by