4 room apartment 71 m² in Kulaki, Belarus
4 room apartment 71 m² in Kulaki, Belarus
Kulaki, Belarus, Salihorsk District, Kulaki Grp ul
Sold or out of date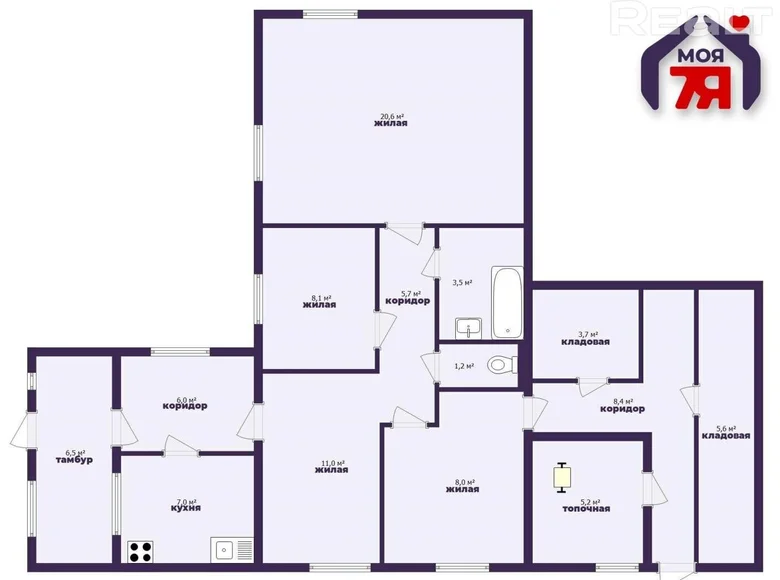 Posted at: 04.02.2023
Updated at: 27.02.2023
Building parameters
The year of construction:
1999
Description
Four-room apartment in the suburbs of Soligorsk.
Address: d. Kulaki, st. GRP
武Everyone dreams of living outside the city with a healthy environment, but with access to infrastructure. To the center of. Salihorsk is only 4 km away.
- Cozy, warm and calm. The house is built of the best, durable and therefore durable material - brick.
Thick walls provide high sound and thermal insulation properties.
- The apartment is located on the 1/1st floor, which will be comfortable for young mothers with strollers, cyclists and the elderly.
- An ideal option for a large and friendly family. The total area of the apartment is 71.1 m2.
- The layout of the apartment consists of 4 living rooms: 20.6 m2, 8.1 m2, 8.0 m2 and 11.0 m2.
- The area of the kitchen is 7.0 m2.
- A separate bathroom, practical for morning joint training - 3.5 m2 and 1.2 m2.
- Two pantry rooms - 3.7 m2 and 5.6 m2.
- The apartment is heated by a new solid fuel boiler.
- There is also a bathhouse on the site, which will become a wonderful family tradition, and a household. built.
武Regular transport links will allow you to quickly and conveniently get to Soligorsk in just 9 minutes.
➜We will gladly show you the apartment and make you its happy owners!
And also want to:
- profitably sell
- urgently redeem
- find the best apartment
- make money on real estate investments
- make design repairs
Then « My 7th » will solve this as for his family: with love, care and the desired result!
Location
Kulaki, Belarus, Salihorsk District, Kulaki Grp ul